My end-of-week morning train WFH reads:
• This 20% Nasdaq gain doesn't mean we're in a new bull market: Explosive rallies are actually more common in bear markets (Marketwatch)

• What the Great Mayonnaise Inflation Mystery Can Tell Us About Prices. Measuring price changes can be fiendishly difficult and highly subjective. Mayonnaise is a perfect example. (Bloomberg)

• Is America's Job Market "Too Good"? Federal Reserve officials want to reduce businesses' demand for workers to put downward pressure on wage growth and contain inflation. Yet the pace of hiring remained strong as of mid-July. (The Overshoot)

• YouTube Still Reigns as TikTok Surges Among Teen Social-Media Users, Survey Says More than a third of teens are on social media almost constantly, a Pew Research poll finds. (Wall Street Journal)

• It's not just social media: Cable news has bigger effect on polarization: When it comes to echo chambers, TV trumps online. (Ars Technica)

• Explicit Content: Rude words are a constant, but their ability to cause offence is in flux. Historians should know their flim-flam from their fiddle-faddle. (History Today)

• Covid has settled into a persistent pattern — and remains damaging. It may not change anytime soon: In some ways, Covid is increasingly looking like other respiratory infections — mild in many people, but sometimes severe in certain high-risk populations. (Stat)

• China can't afford to invade Taiwan Taiwan: Outright escalation would cripple Beijing (UnHerd)  see also Why Doesn't China Invade Taiwan? Despite Beijing's rhetoric, a full-scale invasion remains a risky endeavor—and officials think the island can be coerced into reunification. (Foreign Policy)

• Olivia Julianna on Gen Z for Change, Fundraising Off Matt Gaetz, and Texas Politics The 19-year-old took on a congressman and raised more than $2 million for abortion funds. Here's what she's up to next. (Teen Vogue)

• Inside Biden's hot streak, from the poolside to the Capitol: As the president sought legislation that has eluded Democrats for decades, he made a key decision — to take himself largely out of the mix (Washington Post) but see also Dark Brandon, explained: Not the hero America deserves, but the hero it needs (Slow Boring)

• Let's Freak Out About the New York Mets (In a Good Way): A tormented franchise soars over Atlanta and takes command of the NL East (Wall Street Journal)
Be sure to check out our Masters in Business interview this weekend with Ken Tropin, chairman and founder of Graham Capital Management, a multi-strategy quantitative hedge fund managing $17.2 billion. Previously, he was President and Chief Executive Officer of hedge fund John W. Henry & Company, working with such legendary traders as John Henry and Paul Tudor Jones.
Almost Half of Mortgaged Homes in US Now Considered Equity-Rich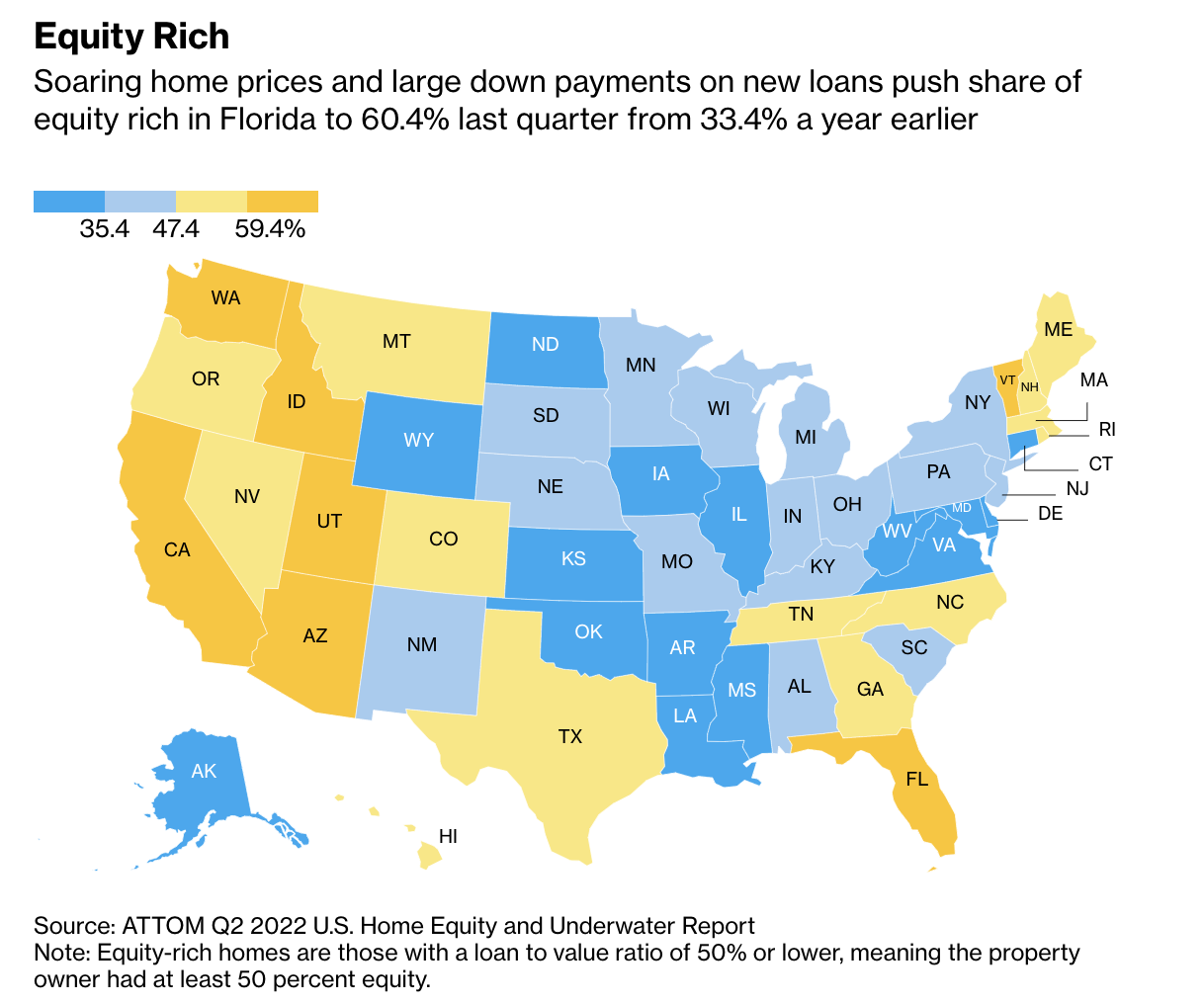 Source: Bloomberg
Sign up for our reads-only mailing list here.