My end-of-week morning train WFH reads:
• Scenes from Tampa's 'dead mall,' alive with nostalgia: At the transforming University Mall near USF, some still shop and work, while others come for the vibes. There is no imminent danger of the American shopping mall going extinct, but it's certainly endangered, down from 2,500 at peak mall to around 600 today, according to Nick Egelanian, president of retail consultancy SiteWorks. He believes maybe 150 will survive the next decade. Some see closures as a corrective to American over-malling, spurred not so much by consumerism as by changes in tax law that made malls a low-risk cash bonanza for builders via depreciation write-offs. (Tampa Bay Times)

• Is Michael Platt the Highest Earner in Finance? Returns and compensation soared when the London-based hedge fund manager stopped investing other people's money: "We are going from earning 2 and 20 on clients' money to earning 0 and 100 on our own." (Bloomberg)

• How the World's Most Valuable Carmaker Fell Perilously Behind on Electric Vehicles: Toyota spent years treating electric cars like the enemy; Once a pioneer in green transportation, the company is now uttered in the same breath as Exxon. What happened? (Slate)

• About those inflation expectations: The fact that inflation expectations do not matter is probably because normal people on the street simply do not understand how inflation and interest rates work. (Klement On Investing)

• How Davos' World Economic Forum became such a big deal: A look at why the meeting of bigwigs actually, kind of matters. (Grid)

• The Getty Family's Trust Issues: Heirs to an iconic fortune sought out a wealth manager who would assuage their progressive consciences. Now their dispute is exposing dynastic secrets (New Yorker)

• FTX Founder Gamed Markets, Crypto Rivals Say: Sam Bankman-Fried found ways to control the prices of digital coins to benefit his companies, FTX and Alameda, according to cryptocurrency investors. (New York Times)

• More Young Americans Are Dying, But Not From Vaccines: The increase started well before Covid-19 shots arrived, according to mortality data, and has plateaued since. (Bloomberg)

• It's 2023, where are the sex robots? 'They will probably never be as huge as everyone thinks' (The Guardian)

• The Blueprint That Turned Around the New York Giants and Their Quarterback: Daniel Jones's future was in doubt when new coach Brian Daboll came in. Then Daboll turned around his career—the same way he had done with the Bills' Josh Allen. (Wall Street Journal)
Be sure to check out our Masters in Business interview this weekend with Steven Klinsky, Founder and CEO, New Mountain Capital. Prior to founding New Mountain Capital in 1999, he was co-founder of the Leverage Buyout Group of Goldman Sachs, where he did $3+ billion of transactions before joining Forstmann Little as a partner, where he oversaw $10+ billion in capital.
The stock market generated Breakaway Momentum on January 12, 2023  for the 25th time since 1945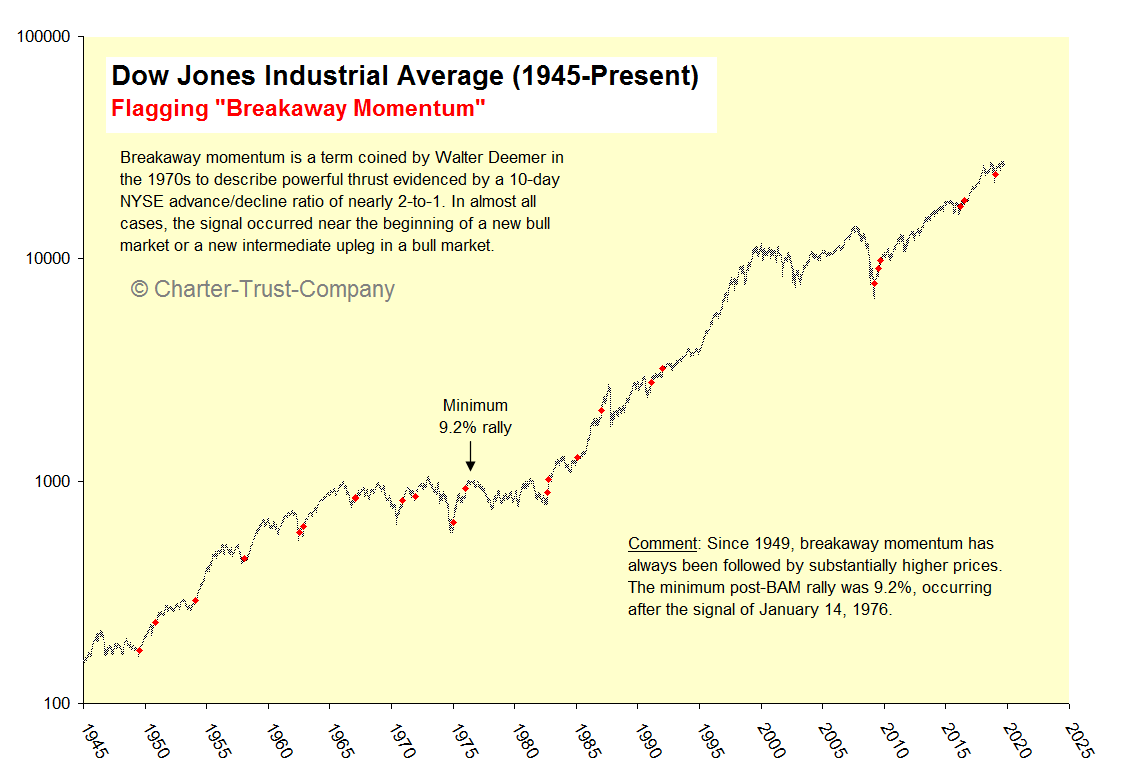 Source: Walter Deemer
Sign up for our reads-only mailing list here.