My morning train WFH reads:
• ChatGPT is everything you wanted Bitcoin to be: ChatGPT was introduced a few months ago and has already spread like wildfire in a way that Bitcoin never has, despite the latter's explosive rise into the public consciousness as a way to gamble and speculate. OpenAI's ChatGPT has instantly found use cases, most notably at the high school and college level as children begin to experiment with it as a way to help them complete (or cheat on) their assignments. (Reformed Broker)

• Building More Housing Makes It Cheaper. Really. The new mayor of Los Angeles and about a third of her fellow Americans think new construction causes prices to rise. The evidence suggests otherwise. (Bloomberg) see also Housing Market Predictions for the Next 5 Years Promise Lots of Surprises: Fasten your seatbelt: The housing market is in for a bumpy five-year ride. (US News)

• These Days, Institutional Investors Eye China Warily: U.S. and Canadian allocators no longer pile into Chinese assets. (Chief Investment Officer)

• Hopes stir for FTX creditors — but recovery could take 2 years, sources say: New FTX CEO John Ray could recover as much half or two-thirds of the approximately $8 billion lost when Bankman-Fried allegedly began to pilfer crypto wallets held by as many as 1 million customers. (New York Post)

• It looks like people are actually moving back to San Francisco (really): There's a big sign that San Francisco may be making a comeback. (Vox)

• Asia Hedge Funds Avert Disaster on Scale of Financial Crisis With China's Reopening: Percentage of funds ending 2022 positive more than doubled Funds were heading for their second-worst year until October. (Bloomberg)

• One Hundred Years of Certitude: We thought we knew how often heavy storms were supposed to occur. We were wrong. (Slate)

• Imagining Russia after Vladimir Putin: When and how it might happen — and how dangerous it might get The conversations about a post-Putin era have begun. Will it be a peaceful exit — or the "Game of Thrones" variety? (Grid)

• Are We Seeing the Last Gasp of the GOP's Two Santa Claus Scam? Has the American public finally wised up to Wanniski's and Reagan's Two Santas scam, even if they don't know the details or the backstory? (Hartmann Report)

• 'The Way We Were,' 50 years later: Robert Hofler's new book 'The Way They Were' delves into the ego clashes and artistic differences that nearly sank the 1973 movie. (Washington Post)
Be sure to check out our Masters in Business next week with Neil Dutta, head of economic research at Renaissance Macro Research. He joined RenMac after spending seven years at Bank of America-Merrill Lynch, where he was a Sr. economist covering US + Canada. Prior to that, he was a research analyst at Barron's.
S&P 500 Sector Median Returns after a recession starts and ends according to data compiled since 1972 by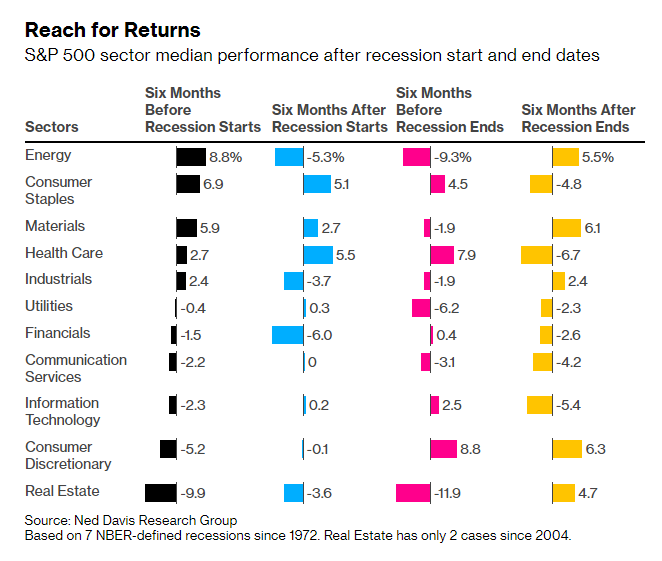 Source: Ned Davis Research via Barchart
Sign up for our reads-only mailing list here.