My back-to-work morning train WFH reads:
• How State Street Has Used AI to Find 'Hidden Gems' Since 2018: Natural-language processing used in stock picking: Bartolini Wanted something forward-looking, dynamic, he says of the ETF. (Bloomberg)

• What Recession? Some Economists See Chances of a Growth Rebound. The Federal Reserve has raised rates rapidly. But instead of cracking, some data point to an economy that's thriving. (New York Times) see also Is the economy kind of good now? If this is a recession, it is a weird one. (Vox)

• U.S. Business Owners Pay Premium to Hire Migrant Workers in Extremely Tight Labor Market: Employers, struggling to fill hourly wage jobs in construction, restaurants and other services, are offering higher pay and better working conditions to people coming to the U.S. to work; 'The scarcity is huge.' (Wall Street Journal)

• Lab-Grown Meat Has a Bigger Problem Than the Lab: Leading scientists agree that cultured meat products won't give you cancer, but the industry doesn't have the decades of data to prove it—so it's trying to avoid the question instead. (Businessweek)

• This Rare Asteroid May Be Worth 70,000 Times the Global Economy. Now NASA Is Sending a Spaceship to Explore It. If all goes to plan, the spacecraft will arrive at 16 Psyche in August 2029. (Robb Report)

• Why Do People Believe Everything They Watch on TikTok? We're just as bad as boomers falling for misinformation on Facebook. (Vice) see also How America Lost Its Grip on Reality: Life in the metaverse is fueling conspiracies across America. (The Atlantic)

• Why Everyone Feels Like They're Faking It: The concept of Impostor Syndrome has become ubiquitous. Critics, and even the idea's originators, question its value. (New Yorker)

• Winners of the 2022 Ocean Art Underwater Photo Contest The 11th annual Ocean Art Underwater Photo Contest, winners and honorable mentions from 14 categories, have been announced. (The Atlantic)

• We Have Never Seen a Football Player Like Patrick Mahomes: In leading the Chiefs to their second Super Bowl title in four years, Patrick Mahomes is redefining quarterbacking greatness. (Ringer)
Be sure to check out our Masters in Business interview this weekend with Rick Rieder, Chief Investment Officer of Global Fixed Income at BlackRock, Head of the Global Allocation Investment Team, and Senior Managing Director. Rieder helps to manage $2.5 trillion in fixed-income assets as a member of BlackRock's Global Operating Committee and is Chairman of the firm-wide BlackRock Investment Council.
After 44 straight weeks of more bears than bulls among individual investors, the bulls finally won last week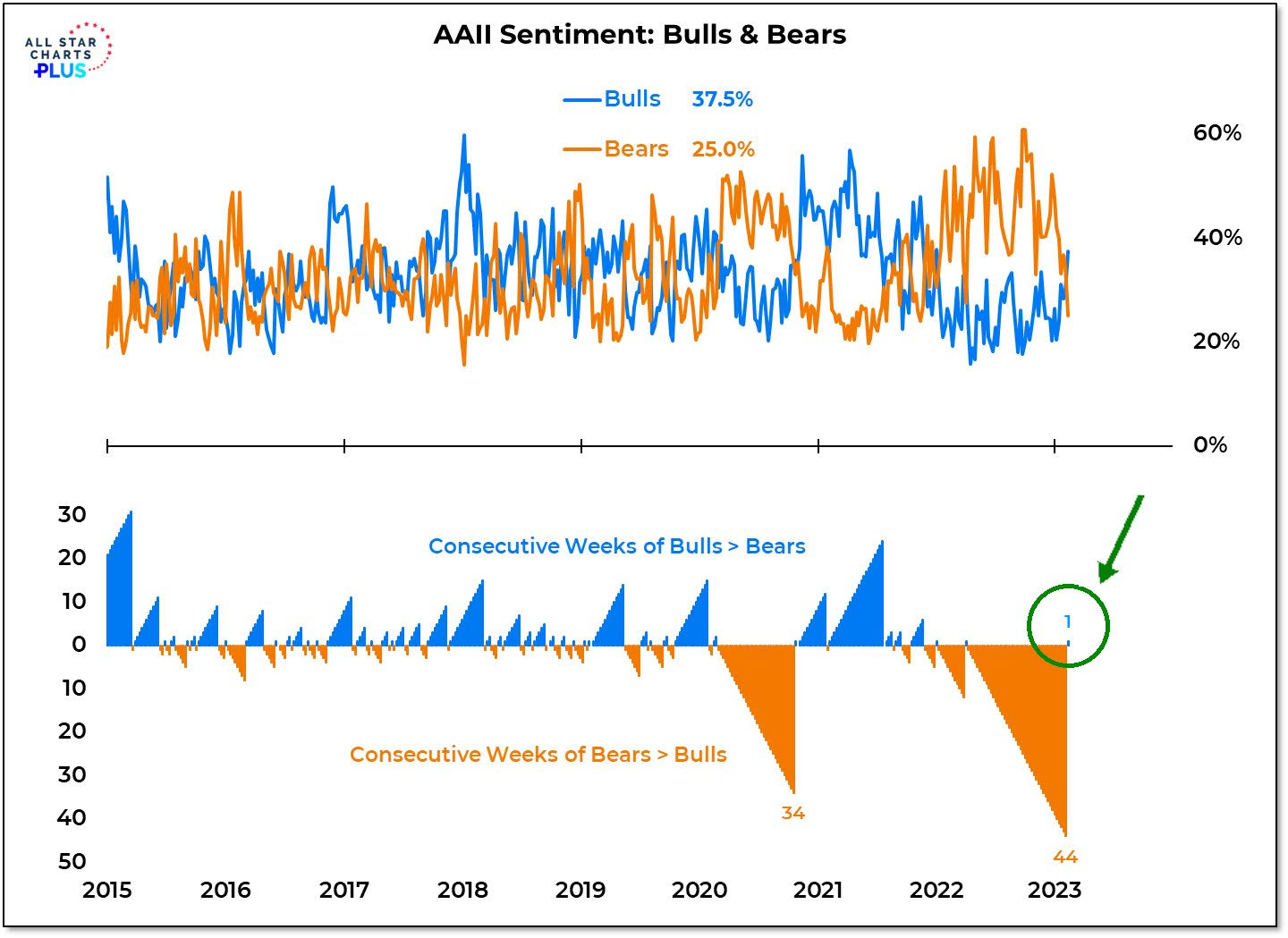 Source: @allstarcharts
Sign up for our reads-only mailing list here.