My end-of-week, Non-NonFarmPayroll, morning train WFH reads:
• American workers aren't returning to the office like their international counterparts—here's why: Even as people got vaccinated and Covid restrictions eased over the years, U.S. office occupancy remains stagnant around 40% to 60% of pre-pandemic levels, Meanwhile, office attendance has returned to 70% to 90% in Europe and the Middle East, and around 80% to 110% in some Asian cities, meaning some workers are spending more time in the office now than pre-Covid. (CNBC)

• World's Largest Four-Day Work Week Trial Finds Few Are Going Back: And about one in six employees in the study said no amount of money would convince them to return to five days a week. (Bloomberg) see also Burned Out, More Americans Are Turning to Part-Time Jobs: The number of people working part time rose by 1.2 million in December and January—most were people who chose it. '25 hours is the new 35.' (Wall Street Journal)

• Institutional Investors Are Using Reddit to Make Investment Decisions. Here's Where They Lurk. And it's not just Reddit — digital media from newsletters to TikTok are also playing a role. (Institutional Investor)

• Are Defined Benefit Pension Funds Still Useful Recruiting, Retention Tools? Essential to public sector employees, a pension fund is a forgotten benefit for most workers in the private sector. (Chief Investment Officer)

• How Gas From Texas Becomes Cooking Fuel in France: Following Russia's invasion of Ukraine, Europe is importing U.S. natural gas like never before to heat homes, generate electricity and power factories. (Wall Street Journal)

• The Fed-Up Copywriter Who Helped France Finally Embrace #MeToo: An Instagram account calling out powerful men has spurred dismissals for harassment. (Businessweek)

• Closing Out the Search Bar: What would it mean to replace the click economy and its cornerstone, the search bar, with something like a conversation? (Slate)

• Colds Haven't Changed. So Why Do They Suddenly Feel So Bad? We all forgot how nasty colds are. (The Atlantic)

• Ukraine's Drone Academy is in session: Behind the scenes at the school turning gamers into UAV pilots. (Politico) see also World in Photos: From Ukraine and Beyond, One Year of War: A curation of photographs from twelve months of war. (Grid)

• Bono and the Edge Take Dave Letterman Back to the Start in 'A Sort of Homecoming' Trailer: ' The documentary, Bono & The Edge: A Sort of Homecoming, With Dave Letterman, arrives on March 17.' (Rolling Stone)
Be sure to check out our Masters in Business interview this weekend with Maria Vassalou, Chief Investment Officer of Multi-Asset Solutions at Goldman Sachs Asset Management. She was a Professor of Finance at Columbia Business School where her academic research led her to establish many of the investment principles she employs today. At Columbia, she did consulting work for numerous institutions before joining Soros Capital Management and S.A.C. Capital Advisors.
Who's not working? Understanding the U.S.'s aging workforce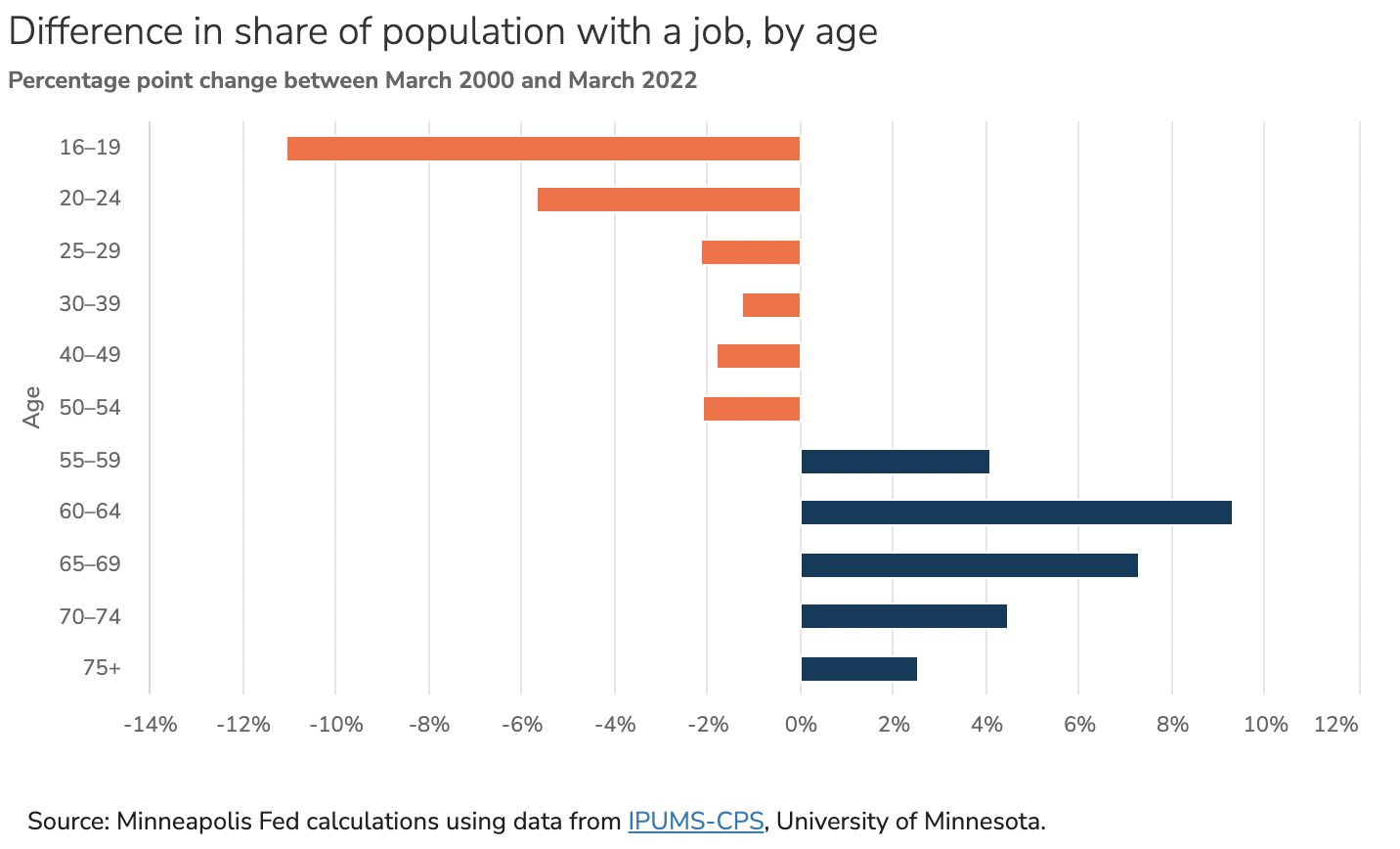 Source: Federal Reserve Bank of Minneapolis
Sign up for our reads-only mailing list here.