My 3-day weekend morning reads:
• Adidas After Yeezy: The partnership with Ye, formerly known as Kanye West, was the stuff of sneakerhead legend—and its demise has the shoe company scrambling to replace nearly half of its profits. (Businessweek)

• What US Cities Pay the Most (and Least) for Everyday Jobs: From accountants to nurses to data scientists, the same job can deliver about 50% more pay if you're willing and able to relocate. (Bloomberg) see also How some people get away with doing nothing at work All hail the jobless employed. (Vox)

• The Biggest Hedge Funds Take the Lead—and Pocket the Most Investments: Amid an attrition trend and a performance lag, the smaller operators are closing. (Chief Investment Officer)

• High-Tech Farm Startups Are Laid Low by Financing Drought: Pests Ventures represent latest attempts by tech to transform established industries. (Wall Street Journal)

• The Parking Reform That Could Transform Manhattan: Urban planner Donald Shoup makes the case for replacing free street spaces in New York City with a pay-to-park model: the parking benefit district. (CityLab)

• Nothing Succeeds Like Failure: Weil, Gandhi, Cioran, and Mishima on humility. (Hedgehog Review)

• Carl Icahn Is $15 Billion Poorer After Hunter Becomes the Hunted: Tucked away in South Florida's Billionaire Bunker, The Lone Wolf of Wall Street is ready for a fight after Hindenburg Research's report. "If you're going to be bothered by this, you shouldn't be in this business," he says. (Bloomberg) see also Bill Ackman Says Icahn 'Somewhat' Like Archegos as Stock Plunges Anew: Short-seller report said Icahn Enterprises shares overvalued; Icahn CEO says he has 'full confidence' in firm's financials (Bloomberg)

• The big idea: why colour is in the eye of the beholder: There is no such thing as color, only the people who perceive it. We might think the sky is blue and trees are green, but the truth is rather stranger. (The Guardian)

• 43 Years Later, Star Wars Finally Explains a Glaring Canon Mistake. Like all good fan theories, this explains away a confusing meta-element that can drag us out of the immersion of a sci-fi world. And if it helps Star Wars' own loremaster sleep at night, then it's good enough for us. (Inverse)

• How New Rules Turned Back the Clock on Baseball: Nearly two months into the season, a series of rule changes — including the new pitch clock, enlarged bases and a ban on the infield shift — has translated into a game that evokes the 1980s more than the 2020s. (New York Times)
Be sure to check out our Masters in Business this week with John Hope Bryant, the founder and chief executive officer of Operation HOPE. The firm focuses on providing financial illiteracy as a way to address systemic issues for under-served individuals and small businesses. He is also the CEO of Bryant Group Ventures, and The Promise Homes Company. Bryant was named 2016 American Banker 'Innovator of the Year,' He has been an advisor to the last three sitting U.S. presidents.
What Recession? Manufacturing and housing conditions are improving.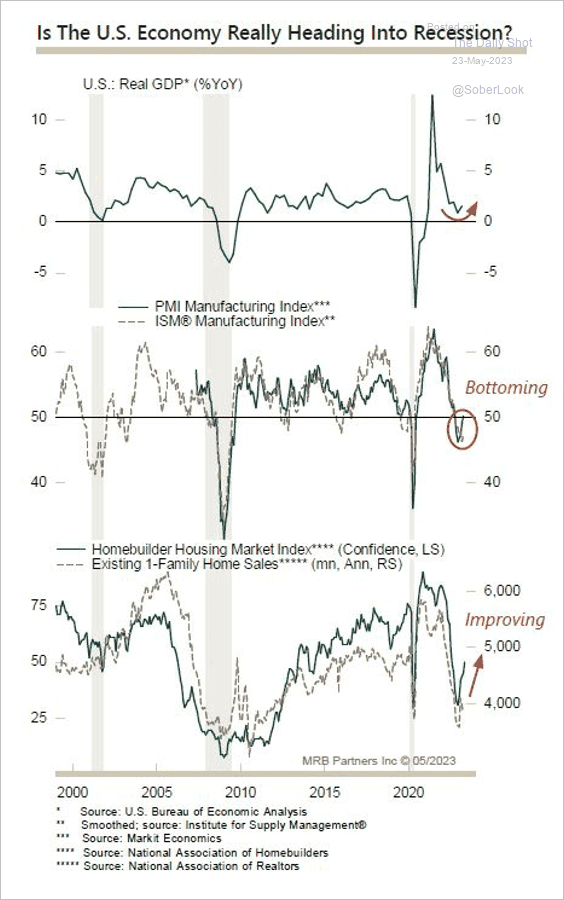 Source @Mike_Zaccardi
Sign up for our reads-only mailing list here.