Bloomberg's Dave Wilson raised the issue 4 weeks ago: Are investors ignoring stocks getting cheaper?
~~~
"Investors are increasingly unwilling to pay for earnings at U.S. financial companies even though the industry's fourth-quarter reporting season is going well.
As shown in the chart below, the gap between the price-earnings ratios for the Standard & Poor's 500 Financials Index and the S&P 500 widened to 24 percent this week. The group's discount was the biggest since December 2007, when a global financial crisis was unfolding, according to data compiled by Bloomberg.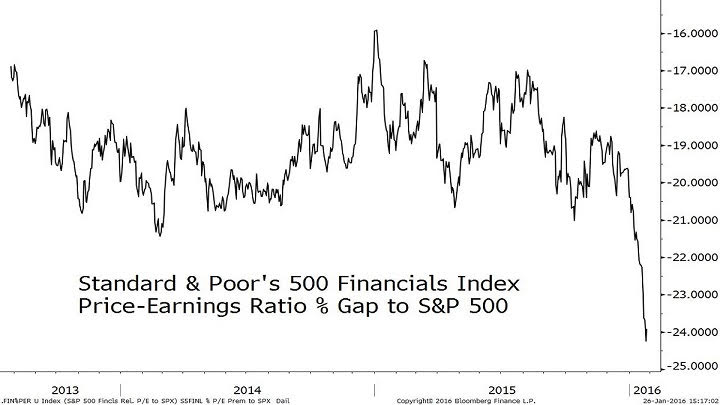 Source: David Wilson, Bloomberg
The financials index dropped to a low of 12.7 times earnings on (week of January 28th) after starting the year at 14.5 times. P/Es fell for each of four types of companies within the industry group, as classified by S&P Dow Jones Indices LLC: banks, diversified finance, insurance and real estate.
Even after rising Tuesday, the financials' P/E of 12.9 was the lowest among the 10 main groups in the S&P 500. The ratio reflected a year-to-date loss for the index of 11 percent, the biggest outside of materials companies.
Valuations for financial stocks declined even though fourth-quarter earningsbeat analysts' average estimates in a Bloomberg survey at a 75 percent pace. The percentage reflects the first 28 of 87 reports from the group, and was in line with the S&P 500's total of 78 percent through midday Tuesday.
Revenue was more in the industry's favor, as 61 percent of the financial companies surpassed the average analyst projection. The S&P 500 total was just 37 percent, with the rest evenly split between companies that matched estimates and those that fell short.