Via Bloomberg comes this astonishing number:
"Between the FAANG quintet and China's rivaling BAT companies, gains in the world's top technology shares are nearing a whopping $1.7 trillion in market value this year.

That's more than Canada's entire economy, and exceeds the worth of Germany's biggest 30 companies put together. The eight tech giants — Facebook Inc., Amazon Inc., Apple Inc., Netflix Inc. and Google parent Alphabet Inc., as well as their Asian peers Baidu Inc., Alibaba Group Holding Ltd. and Tencent Holdings Ltd. — have amassed as much money in 2017 as Pacific Investment Management Co., one of the world's biggest fund managers, has done in about 46 years." (emphasis added)
The chart nearby shows some comparison veresus, DAX, Pimco and Canada!
Monster Tech Gains 2017 YTD
click for ginormous graphic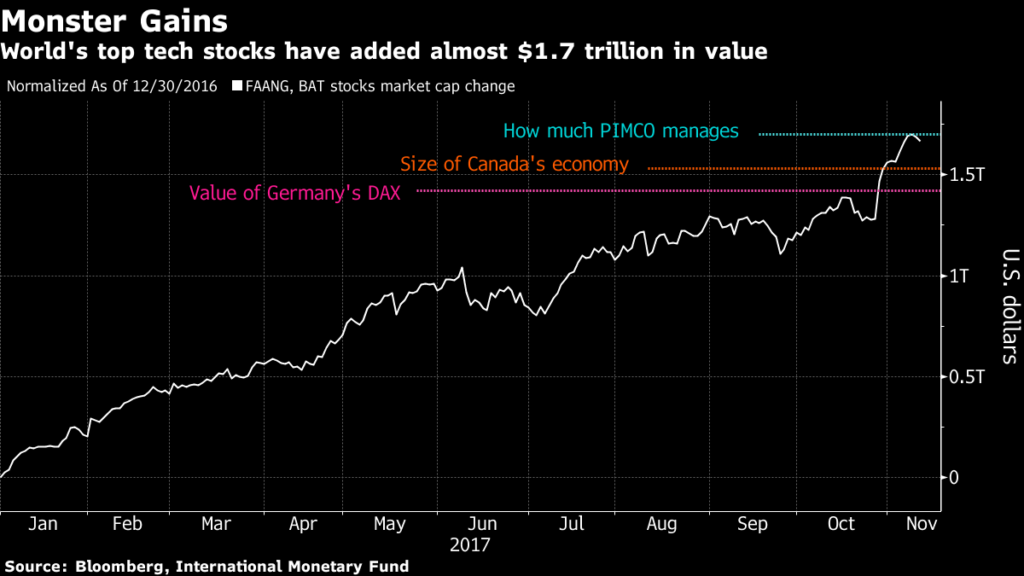 Source: Bloomberg