The weekend is here! Pour yourself a mug of Danish Blend coffee, grab a seat by the window, and get ready for our longer form weekend reads:
• Economics: The Discipline That Refuses to Change. Behavioral economics upended the idea that humans act solely in their rational self-interest. So why do most undergrads barely learn anything about the field? (The Atlantic)
• Dr. Elon & Mr. Musk: Life Inside Tesla's Production Hell (Wired)
• Meet the Safecracker of Last Resort: Charlie Santore sees Los Angeles from the inside, by breaking into safes whose owners can no longer unlock them (The Atlantic)
• How the IRS Was Gutted (ProPublica)
• This San Francisco Investor Wants to Revolutionize Private Equity with a Quant Fund for Private Markets. Is He Crazy? (Institutional Investor)
• Sins of the Fathers: The Confederacy was built on slavery. How can so many Southern whites still believe otherwise? (Washington Post)
• The Best Way To Save People From Suicide (Huffington Post)
• Machine Politics: The rise of the internet and a new age of authoritarianism (Harpers)
• Good Grief!: The beguiling philosophy of Peanuts:  according to a new exhibition, they had a seismic influence on society (BBC)
• The Great NFL Heist: How Fox Paid for and Changed Football Forever (Ringer)
Be sure to check out our Masters in Business interview this weekend with Bethany McLean, contributing editor at Vanity Fair and author of the recently released "Saudi America: The Truth About Fracking and How It's Changing the World." She also co-wrote "The Smartest Guys in the Room: The Amazing Rise and Scandalous Fall of Enron."
How Do Rising Short-Term Rates Affect Uncle Sam?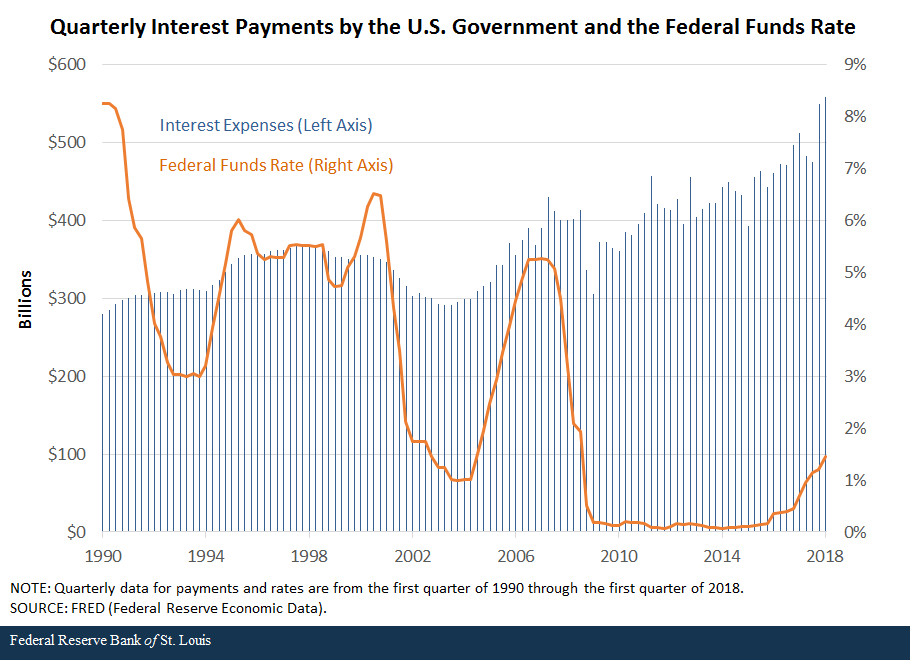 Source: Federal Reserve Bank of St. Louis
Want to receive our daily reads in your inbox? Sign up here!