My back to work morning train reads:
• The longest expansion, but definitely not the greatest (The Hill)
• When Gekko Collects Art: The intersection of art and finance (TheSmartSet)
• 'Pay-to-Play' by Mutual Fund Companies and Brokerages Is Hurting Investors. Here's How. (Barron's)
• The Best Ten Years Ever (Irrelevant Investor)
• SUVs Are Bumper-to-Bumper on Dealer Lots, With More on the Way: Auto makers are rolling out new models of crossovers and sport-utility vehicles, which risks cutting into profits in years ahead. (Wall Street Journal)
• All about Direct Listings (Andreessen Horowitz)
• With 16 Months to go, Negative Partisanship Predicts the 2020 Presidential Election (Judy Ford Wason Center for Public Policy)
• They turn to Facebook and YouTube to find a cure for cancer — and get sucked into a world of bogus medicine (Washington Post)
• With Jeffrey Epstein locked up, these are nervous times for his friends, enablers (Miami Herald) see also Court to unseal up to 2,000 pages of Jeffrey Epstein-related documents (Miami Herald)
• Why Stars Won't Come to the Knicks: After winning just 17 games this season, the team targeted Kevin Durant and Kyrie Irving in free agency. They signed with the Nets. This was part of a pattern. (New York Times)
What are you reading? Hit me here with hashtag #Reads.
Number of Americans with multiple jobs continues to trend higher.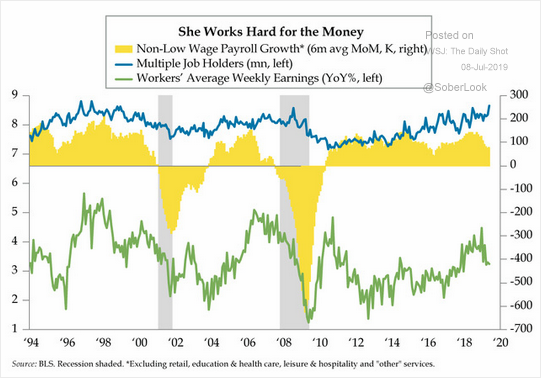 Source: Quill Intelligence via Daily Shot