My Two-for-Tuesday morning train reads:
• In shocking reversal, Big Business puts the shareholder value myth in the grave (Los Angeles Times) see also America's CEOs Seek a New Purpose for the Corporation (Fortune)
• An Appreciation for the Bull Market in Long-Term Bonds (A Wealth of Common Sense)
• Maybe it's time for Larry Kudlow to stop making predictions (Washington Post) see also The Modern Kudlow To Standard English Translation Guide (The Big Picture)
• UPS Has Been Delivering Cargo in Self-Driving Trucks for Months And No One Knew (Gizmodo)
• Investors Are Seeking More Support for Private Equity Co-investments (Chief Investment Officer) see also Once-Unpopular Carbon Credits Emerge as One of the World's Best Investments (Wall Street Journal)
• Why It's Immigrants Who Pack Your Meat (The Atlantic)
• Matt Drudge Has Barely Changed Anything About The Drudge Report In The Last 20 Years. This Summer, He Upended Its Advertising Business. (Buzzfeed) but see Advertisers Blacklist News Stories Online (Wall Street Journal)
• Tumbler = Porn (Galloway)
• Conservative Joe Walsh: Trump Needs a Primary Challenge (New York Times) see also If This Fox News Poll Is Right . . .  (New York Magazine)
• The shows we've lived by: From classic sitcoms to '80s excess, a timeline of the most influential homes on TV (Curbed)
Be sure to check out our Masters in Business interview this weekend with Josh Wolfe, co-founder and managing partner of Lux Capital. The venture firm was set up to support scientists and entrepreneurs who pursue unconventional solutions to the most challenging problems of our time.
Yield Inversions Are Hardly a Death Knell for U.S. Stocks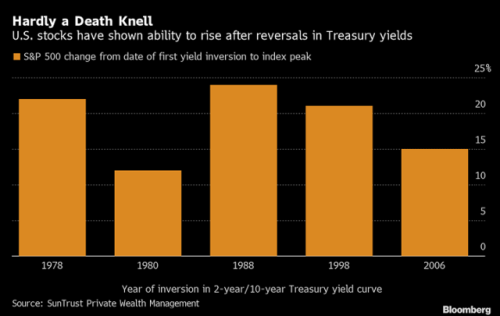 Source: Dave Wilson