The weekend is here! Pour yourself a mug of Danish Blend coffee, grab a seat in the warm sunshine, and get ready for our longer form weekend reads:
• BlackRock Becomes a Populist Punching Bag (Bloomberg)
• The Man Who's Spending $1 Billion to Own Every Pop Song (Medium)
• The Gene Drive Dilemma: We Can Alter Entire Species, but Should We? (New York Times)
• The unsinkable Joe Biden? Many months and many gaffes later, Biden is still ahead (NBC News) see also One Year in Washington: Alexandria Ocasio-Cortez Has Already Changed D.C. It Hasn't Changed Her Much. (New York Magazine)
• The rise and fall of the Hummer, America's most needlessly masculine vehicle (Vox)
• Scientists are unraveling the mysteries of pain (National Geographic)
• The Midlife Crisis of the American Restaurant Review (Los Angeles Review of Books)
• Strange Dark Matter Findings Could Rewrite the Universe's History (Vice)
• In Baby Yoda, Hollywood Sees Its Past, Present and Meme-able Future (Hollywood Reporter)
• History of Mel Brooks: Both Parts (Jewish Review of Books)
Be sure to check out our Masters in Business interview this weekend with Matthew Benkendorf, CIO at Vontobel's Quality Growth boutique, managing $33 billion (He replaced prior MiB guest Rajiv Jain as CIO). Vontobel manages $279 billion (6/30/19) and has 2,000 employees.
Progress On Lung Cancer Drives Historic Drop In U.S. Cancer Death Rate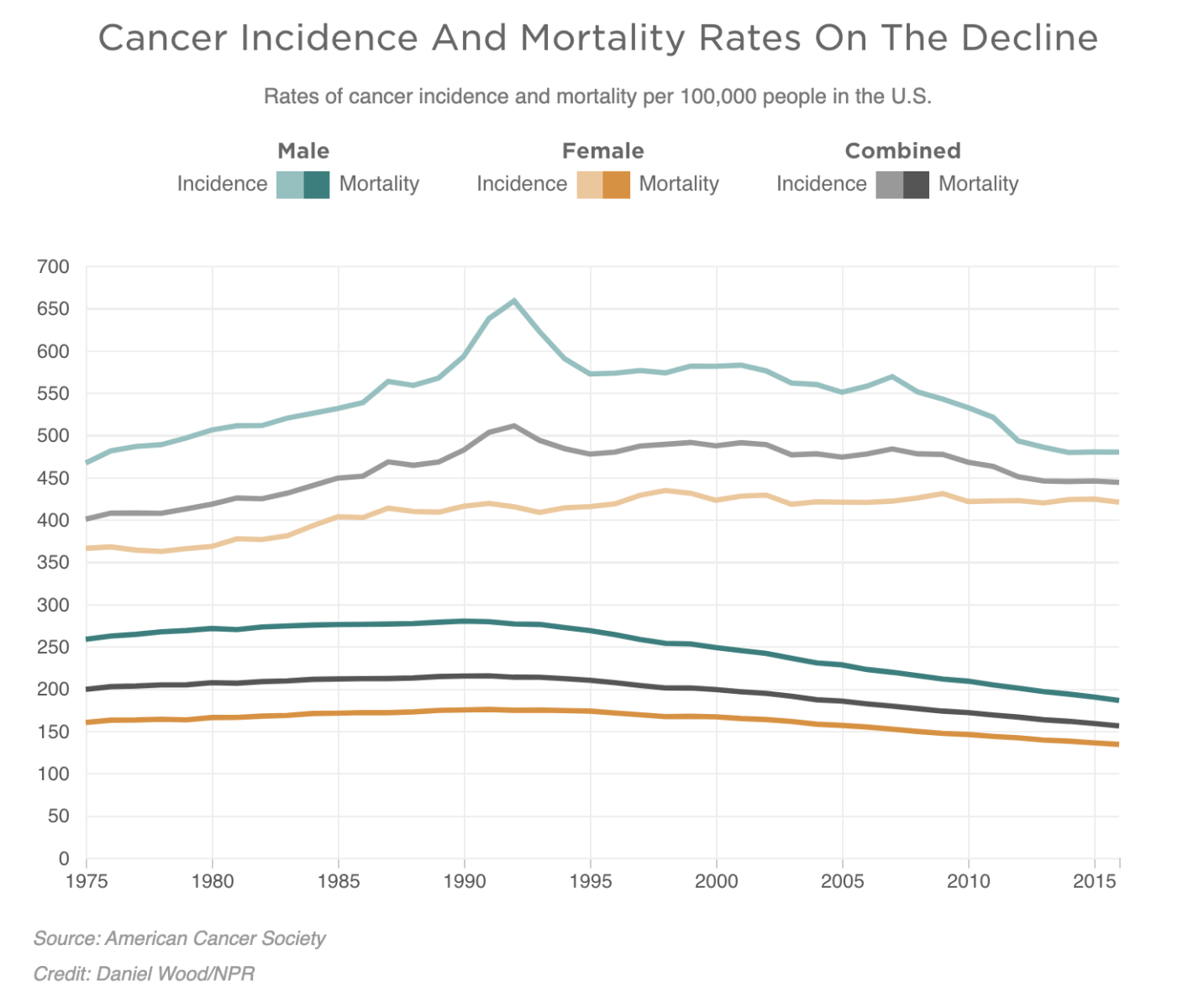 Source: NPR
Sign up for our reads-only mailing list here.