My mid-week morning train reads:
• U.S. Stock Market Appears Most Vulnerable to Virus Shock A handful of expensive tech companies hold broad sway. (Bloomberg)
• Is The Stock Market Going to Crash? (Irrelevant Investor)
• 5 Companies Make up 18% of the S&P 500. Should Investors Care? (A Wealth of Common Sense)
• Hedge Funds Ramped Up Leverage in Stocks Just Before Market Rout. (Bloomberg)
• Bitcoin is the greatest scam in history (Vox)
• Your Company Is Too Risk-Averse (Harvard Business Review)
• Post-Brexit, Britain Is Going Its Own Way. That Way Looks Expensive. (New York Times)
• Facebook: The Inside Story: Author Steven Levy on how the company compares to Apple and Google. (The Verge)
• Amazon Opens Cashierless Supermarket in Latest Push to Sell Food. (Wall Street Journal)
• Why America Is Losing The Toilet Race (NPR)
Be sure to check out our Masters in Business interview this weekend with Brian Deese, Global Head of Sustainable Investing for Blackrock, the investing giant managing over 7 trillion dollars.
Few Americans are confident in tech companies to prevent misuse of their platforms in the 2020 election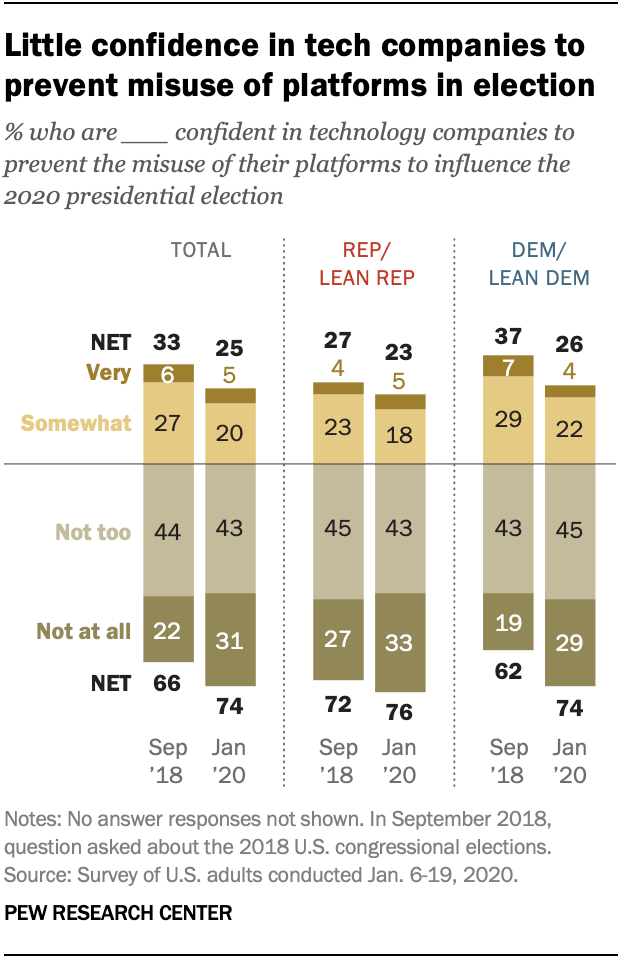 Source: Pew Research
Sign up for our reads-only mailing list here.