My Two-for-Tuesday morning train reads:
• Tim Cook and Apple Bet Everything on China. Then Coronavirus Hit. (WSJ) see also Coronavirus Tests Limits of Central Bank Firepower (NYT)
• Can We Get a Vaccine Early? How the Rich Are Preparing for Coronavirus (Bloomberg)
• 5 Ways Your Company Can Keep Its Competitive Edge (Fortune) see also Printing's Not Dead: The $35 Billion Fight Over Ink Cartridges (Businessweek)
• The boss who put everyone on 70K. (BBC)
• Jack Welch Inflicted Great Damage on Corporate America (Bloomberg) See also Jack Welch's one regret is General Electric's demise (Fox Business)
• Most Americans Point to Circumstances, Not Work Ethic, for Why People Are Rich or Poor (Pew Research Center)
• How to prepare for the coronavirus like a pro (MIT Technology Review) but see Corona Panic (Collaborative Fund)
• Spotify's Newest Pitch to Labels and Musicians: Now You Pay Us (Bloomberg)
• Businesses Fret Over Potential Bernie Sanders Presidency (Wall Street Journal) but see Dems, Want to Defeat Trump? Form a Team of Rivals (New York Times)
• The Problems Inherent in Political Polling (New Yorker)
Be sure to check out our Masters in Business interview this weekend with Danielle DiMartino Booth, founder of Quill Intelligence, a research and analytics firm, and author of Fed Up: An Insider's Take on Why the Federal Reserve is Bad for America.
Super Tuesday is heavy on Southern states: (VA, NC, TE, AL and AK)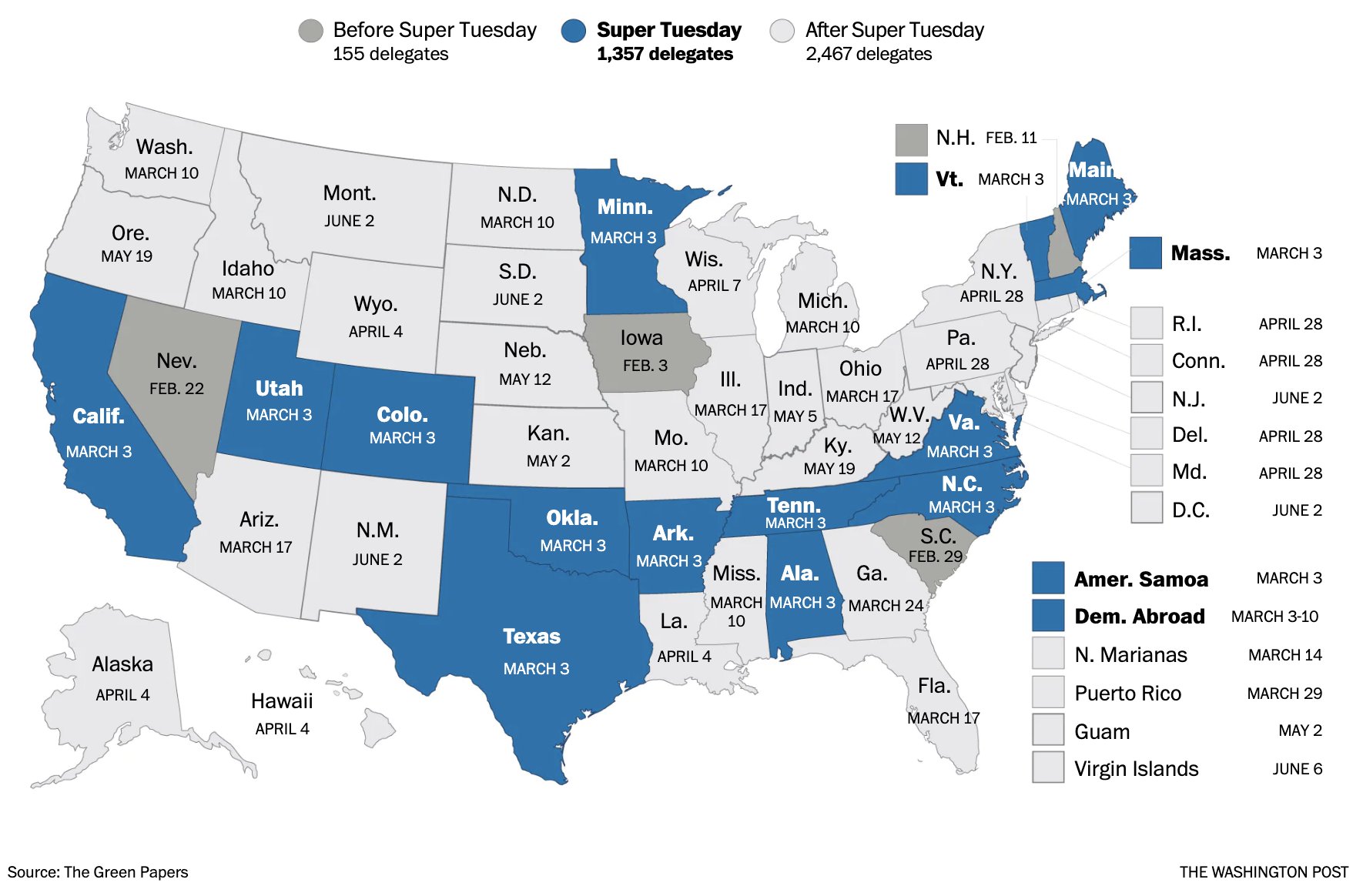 Source: Washington Post
Sign up for our reads-only mailing list here.