My Two-for-Tuesday morning train WFH reads:
• U.S. Equity Markets Stubbornly Ignore the Doom Everywhere (Businessweek) but see These Investors Are Helping Drive Market's Surprise Rally (WSJ)
• Investors Don't Share POTUS Scorn for Blue States (Bloomberg)
• We Can Prevent a Great Depression. It'll Take $10 Trillion. (The Atlantic) See also The Industries Hit Hardest By The Unemployment Crisis (FiveThirtyEight)
• What We Know About Gen Z So Far (Pew Research Center)
• How Far Will Asset Management Pay Fall? (Institutional Investor) but see Nothing Can Keep Investors From Pouring More Money Into Alternative Assets (Institutional Investor)
• Buyers with no money and sellers with no product: Inside the underground market for face masks (Washington Post)
• FDR's New Deal Worked. We Need Another One. (Bloomberg) see also The U.S. Needs Way More Than a Bailout to Recover From Covid-19 (Businessweek)
• We shut down the economy to make progress against COVID-19 — and then made no progress (Los Angeles Times)
• The Tiny U.S. Agency Fighting Covid Conspiracy Theories Doesn't Stand a Chance (Bloomberg) see also The Conspiracy Theorists Are Winning: America is losing its grip on Enlightenment values and reality itself. (The Atlantic)
• Michael Jordan Faced Better Competition Than LeBron James (FiveThirtyEight)
Be sure to check out our Masters in Business interview this weekend with Henry Cornell, founder of Cornell Capital. Previously, he was the Vice Chairman at Goldman Sachs, where he was the original architect of the firm's Merchant Banking Division.
85 years of advertising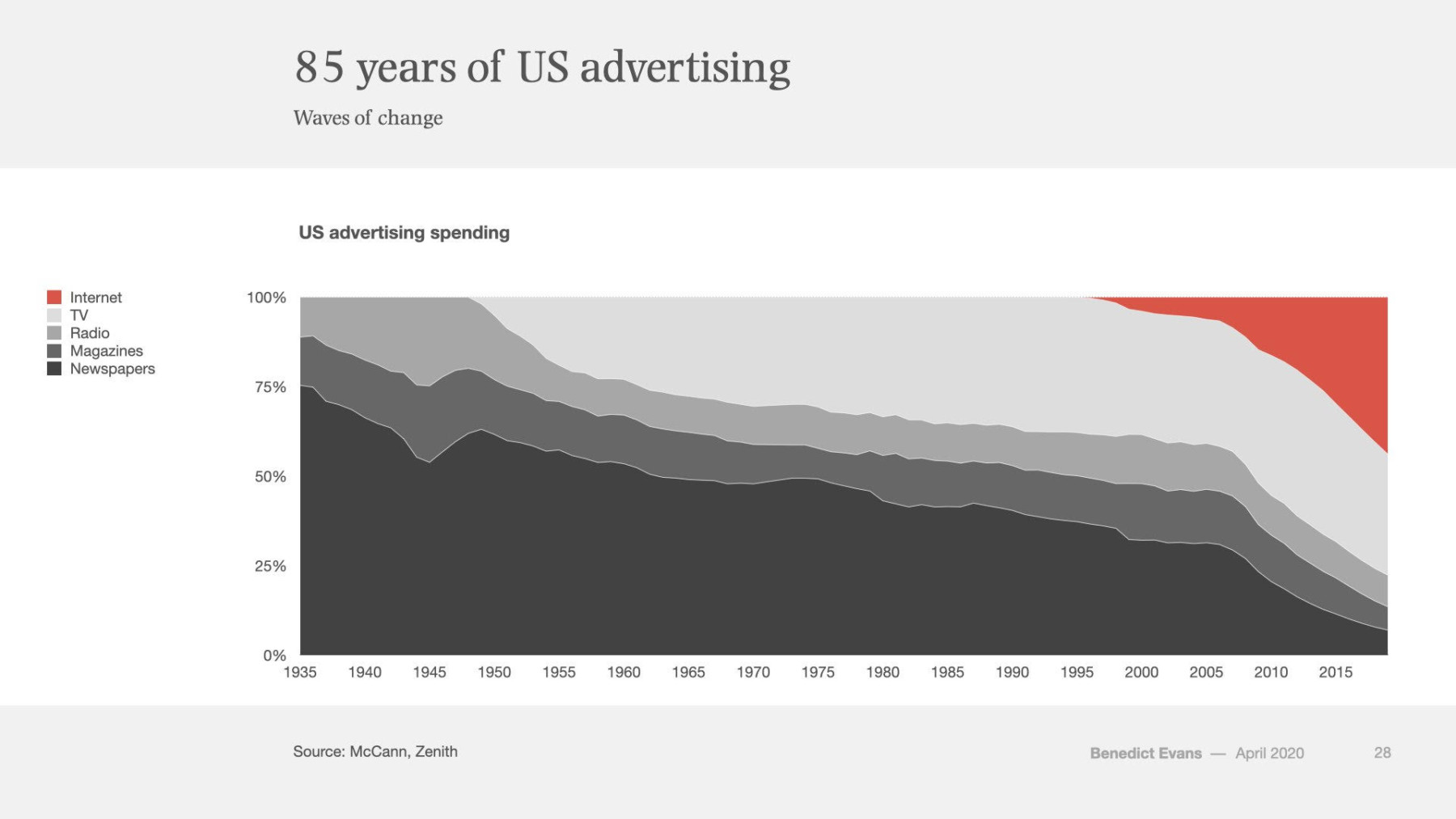 Source: @BenedictEvans