Avert your eyes! My Sunday morning look at incompetency, corruption and policy failures:
• Just How Common Is Corporate Fraud? A new study estimates that on average 10 percent of public companies commit securities fraud each year. (New York Times)

• Skipped Showers, Paper Plates: An Arizona Suburb's Water Is Cut Off: Hundreds of homes outside the boundaries of Scottsdale can no longer get water from the city, now their owners are living a worst-case scenario of drought in the West. (New York Times) see also Parts of Greenland now hotter than at any time in the past 1,000 years: New research in the northern part of Greenland finds temperatures are already 2.7 degrees warmer than they were in the 20th century. (Washington Post)

• Fort Walgreens The recent spike in shoplifting is both overblown and real. And almost everyone is profiting from it (including you). Even if you've never purchased steeply discounted perfume from a guy on the street who claims he knows Madame Sephora, you have almost definitely trafficked in stolen goods. If you're a New Yorker, you might have bought a cup of coffee from a midtown cart that brews exclusively stolen beans or have eaten an Italian sub from a bodega that uses pilfered salami. If you shop online, the likelihood that you've purchased stolen merchandise is even higher. Amazon, eBay, Craigslist, Facebook Marketplace, and others have made it easier than ever to anonymously set up shops like Rubinov's Treasure-Deals-USA. Fences have never had it so good. (Curbed)

• Elon Musk's Appetite for Destruction: A wave of lawsuits argue that Tesla's self-driving software is dangerously overhyped. What can its blind spots teach us about the company's erratic C.E.O.? (New York Times)

•  There's no planet B: The scientific evidence is clear: the only celestial body that can support us is the one we evolved with. Here's why (Aeon)

• Websites Selling Abortion Pills Are Sharing Sensitive Data With Google: Some sites selling abortion pills use technology that shares information with third parties like Google. Law enforcement can potentially use this data to prosecute people who end their pregnancies with medication. (ProPublica)

• There's Another Anna Delvey-Style Fraudster, and Her Web of Lies Is Unraveling: One of Tina Duong's more outlandish scams involved hiring 300 actors to play her friends and family to fool her husband at their lavish wedding. (Vice)

• As its only remaining elected officials depart, Haiti reaches a breaking point. Haiti, a country long beset by catastrophe and political turmoil, is facing perhaps its steepest challenge in recent decades as its piecemeal government, now lacking any democratically elected officials, struggles to chart a path forward amid gang violence and a cholera outbreak. (NPR)

• Judge Orders Trump and Lawyer to Pay Nearly $1 Million for Bogus Suit: In a scathing ruling, the judge said the suit against Hillary Clinton and dozens of the former president's perceived political enemies was "brought in bad faith for an improper purpose." (New York Times)

• Kanye Is Never Coming Back From This: Ye's knack for self-sabotage has gone too far, and his former allies are letting him know. (Rolling Stone)
Be sure to check out our Masters in Business interview this weekend with Steven Klinsky, Founder and CEO, New Mountain Capital. Prior to founding New Mountain Capital in 1999, he was co-founder of the Leverage Buyout Group of Goldman Sachs, where he did $3+ billion of transactions before joining Forstmann Little as a partner, where he oversaw $10+ billion in capital.
CEO pay: Zooming out over the last 50 years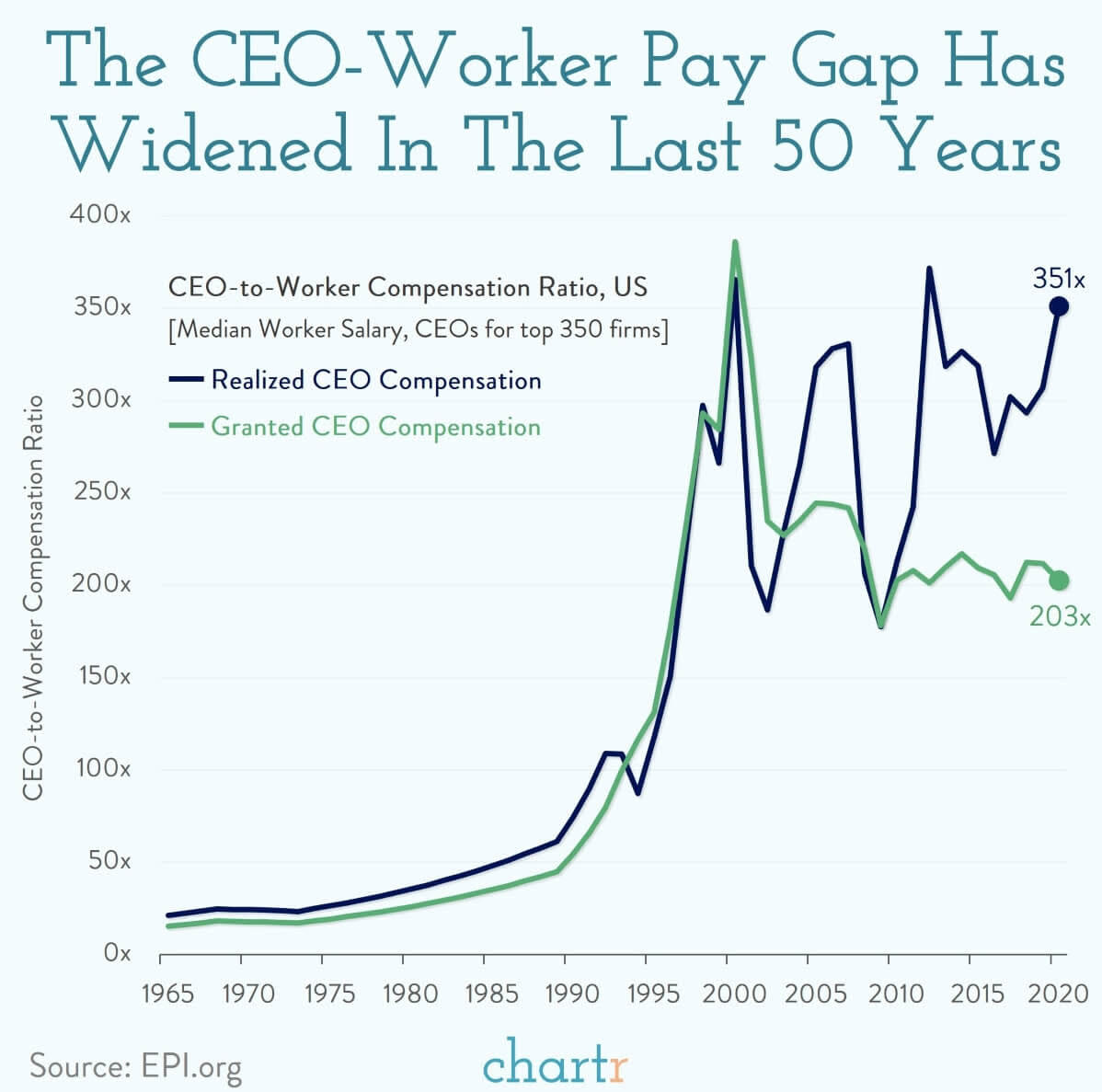 Source: Chartr
Sign up for our reads-only mailing list here.
~~~
To learn how these reads are assembled each day, please see this.