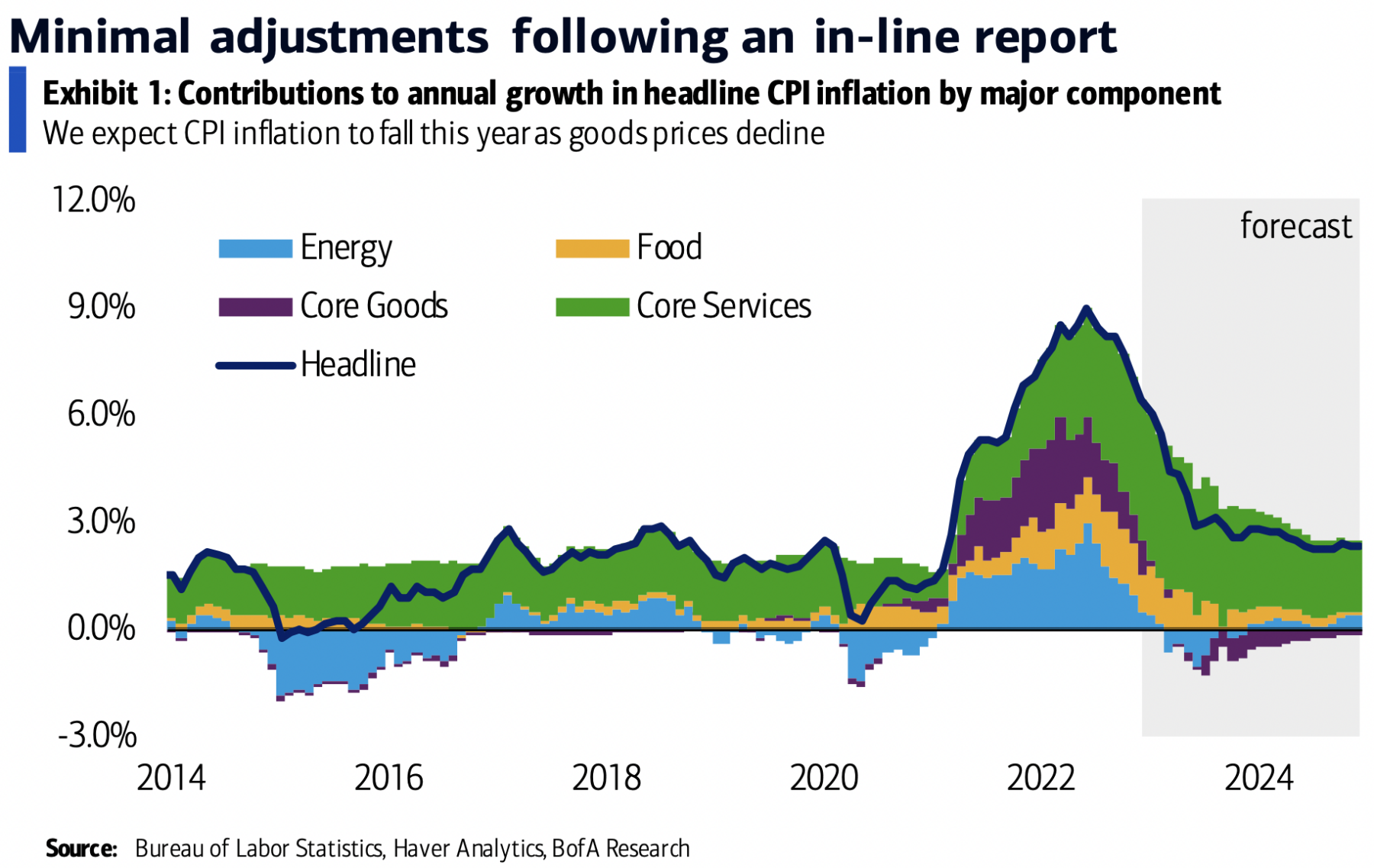 It may surprise you to learn that during this cycle of falling inflation, there seems to be little correlation with rising Fed Rates. This is very counter-intuitive but it makes sense when you consider what an aberrational and unusual cycle this has been.
Despite zero rates for a decade plus, inflation was quite benign. It was only the combination of the global pandemic and lockdown, a massive fiscal stimulus, and a surge in demand for goods that launched the 2020-22 inflation spike. It is fair to ask: If low rates were not the driver of inflation, should we expect that higher rates will rein it in?
It's natural to see a correlation between when the Fed began raising rates in March 2022, and inflation peaking soon after. But the relationship does not hold up well once we begin looking at the specific sectors of the economy where price increases are slowing, stopping, or falling.
As we discussed yesterday, elevated prices in wages, autos, and housing have been driven primarily by the shortages of workers, semiconductors, and single-family home inventory. Those prices will stop rising once we get the supply of those goods and services back to normal. We see this already in the used car market — as the supply of semis improved, new cars have been shipping, alleviating the pressure on the used car market.
Goods prices have fallen in large part because households are returning to normal, not because rates have risen. The inflationary 20% surge in demand for goods is now moderating and working its way back toward normal, as people return to their pre-lockdown lifestyle. This has led to a substantial decrease in the price of containers and shipping, practically back to where they were pre-pandemic.
So too with energy prices – they spiked on the initial invasion of Ukraine by Russia; they have since begun to fall in part due to an unusually mild winter, especially in Europe. They have also been falling in part due to the faltering Russian army – the incompetence of Putin's forces is raising hopes for a positive outcome occurring sooner rather than later. Increased Russian oil production to fund their stumbling invasion is also helping.
All of this is visible in the chart above courtesy of BofA Global Research
More vacations and entertainment, and fewer renovations and home improvements (and much less "cocooning") have nothing to do with FOMC rates. CPI inflation has been coming down because the national economy has reopened, and our buying behaviors are normalizing.
~~~
The biggest inflationary issue remains services, of which the largest component is Owners Equivalent Rent (OER). I'll try to explain in another post what the Fed can do to drive the price increases of those rental units lower.
Part 2 is coming next week: What the Fed could do to lower inflation…
Part II is live!

For Lower Inflation, Stop Raising Rates (January 18, 2023)
See also:
TSMC Chief Sees End to Chip Shortage That Hammered Auto Industry (Bloomberg, January 12, 2023)
Wholesale Used-Vehicle Prices Increase in December (Manheim, December 2022)
Thousands of records shattered in historic winter warm spell in Europe (Washington Post,  January 2, 2023)
Previously:
Inflation Comes Down Despite the Fed (January 12, 2023)
How the Fed Causes (Model) Inflation (October 25, 2022)
Why Aren't There Enough Workers? (December 9, 2022)
How Everybody Miscalculated Housing Demand (July 29, 2021)