My morning train WFH reads:
• All the recessions that didn't happen. The future doesn't always cooperate with the present because whatever is going to happen hasn't happened yet. So forecasters are frequently wrong. They'll never stop forecasting, but their recent track record should make you skeptical every time you hear somebody predicting a recession. (Yahoo Finance)

• World's Rich Take Advantage as $1 Trillion Property Market Craters: Wealthy investors were the most active buyers of commercial property in 2022, a new report finds. (Bloomberg) see also New York City's Luxury Housing Is Now More Expensive Than London's: A post-pandemic surge of super-prime real estate deals has left the UK capital playing catch-up, according to a new report from Knight Frank. (Bloomberg)

• 'Don't buy eggs. Buy TVs.' Electronics prices are defying inflation. It's a great time to buy a TV, phone or laptop. Here's advice on getting a good deal. (Washington Post)

• The Furniture Hustlers of Silicon Valley: As tech companies cut costs and move to remote work, their left-behind office furniture has become part of a booming trade. (New York Times)

• The 17 Best EVs Coming in 2023: Electric vehicles went mainstream in 2022, so 2023's designs will be bold, weird, and wonderful. Here are a few flashes of inspiration. (Wired)

• You may have heard of the 'union boom.' The numbers tell a different story: Despite a stream of headlines last year about unionization drives throughout the nation, the share of American workers in unions fell to its lowest level on record. What's going on? (NPR)

• Why you don't trust the media: More competition means it's better than ever, but you hear more about the flaws (Slow Boring)

• Meet the con man who sold America on 'fake it till you make it' Today, "fake it till you make it" has come to represent the scrappy, optimistic mind-set of American hustle culture. But as Turner's saga shows, there's a dark side baked into the "fake it" mentality: the fakers who attempt to win success through fraud, then never make good on their promises.(Washington Post)

• Meet the Superusers Behind IMDb, the Internet's Favorite Movie Site: Powered by obsessed film buffs, it's a crowdsourced juggernaut that's older than Google and Wikipedia. Now AI is threatening to steal the starring role. (Wired)

• Chris Rock Is Finally Ready to Talk About Will Smith's Oscar Slap: The stand-up comedian, going live with a new Netflix special a week before the Oscars, spent the past year on tour and working out material on the infamous Oscar slap. (Wall Street Journal)
Be sure to check out our Masters in Business interview this weekend with Maria Vassalou, Chief Investment Officer of Multi-Asset Solutions at Goldman Sachs Asset Management. She was a Professor of Finance at Columbia Business School where her academic research led her to establish many of the investment principles she employs today. At Columbia, she did consulting work for numerous institutions before joining Soros Capital Management and S.A.C. Capital Advisors.
The SPAC Fad Is Ending in a Pile of Bankruptcies and Fire Sales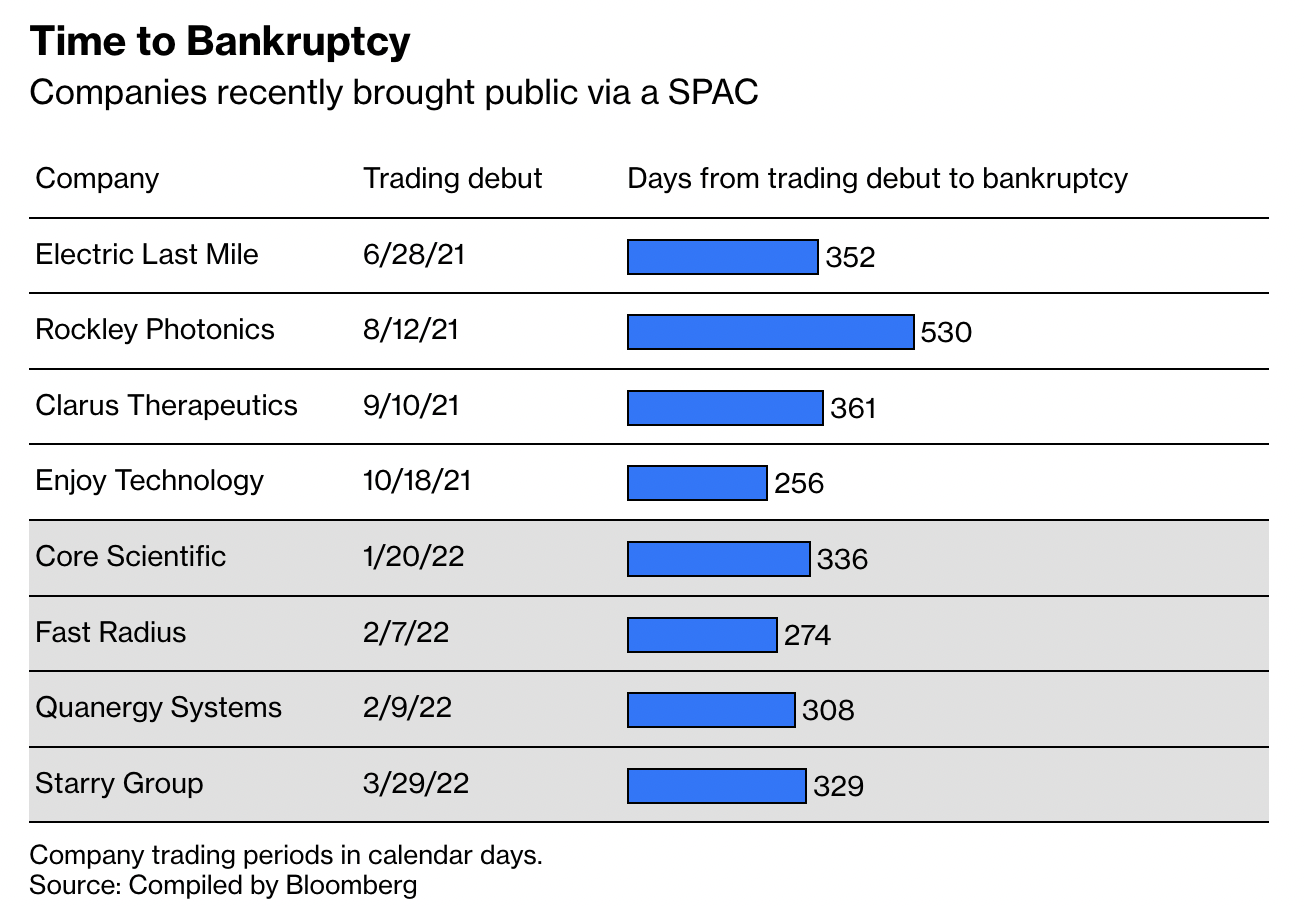 Source: Businessweek
Sign up for our reads-only mailing list here.