Avert your eyes! My Sunday morning look at incompetency, corruption and policy failures:
• In the Hunt for Fraud, the Red Flags Start With the Auditor: With its Adani report, Hindenburg zeroed in on the tiny firm's thin staff and client roster. (Institutional Investor)

• Norfolk Southern's accident rate spiked over the last decade: An analysis of federal railroad data shows accidents rising as investigators probe the company's "safety culture." (Politico)

• Why Poverty Persists in America: A Pulitzer Prize-winning sociologist offers a new explanation for an intractable problem. (New York Times)

• Inside the Suspicion Machine: Obscure government algorithms are making life-changing decisions about millions of people around the world. Here, for the first time, we reveal how one of these systems works. (Wired)

• The Fight Over Penn Station and Madison Square Garden: How the effort to renovate midtown Manhattan's transit hub has been stalled by money, politics, and disputes about the public good. (New Yorker)

•  Why did 250,000 Britons die sooner than expected? Life expectancy in Britain has flatlined in the last ten years (Economist)

• The New Anarchy: America faces a type of extremist violence it does not know how to stop. (The Atlantic)

• US gun violence makes international students and their parents think twice about studying abroad: Every mass shooting brings questions about the safety of visiting or studying in the U.S. (Grid)

• Why Tucker Carlson still promotes Jan. 6 Capitol attack lies — and sympathetic audiences believe them: Fox News and far-right politicians have continued to recycle the same claims. (Grid) see also Revealing Fox News texts point to the right's long war on the truth. The fear that viewers might see telling the truth about Donald Trump's loss as betrayal was widespread inside the network. In texts, they fumed that candor about 2020 was driving the audience away, prompting viewers to defect to competitors who offered a more comforting cocoon. On the air, some of those personalities kept doling out what they privately admitted were lies. (Washington Post) see also Inside the Panic at Fox News After the 2020 Election: "If we hadn't called Arizona," said Suzanne Scott, the network's chief executive, according to a recording reviewed by The New York Times, "our ratings would have been bigger." (New York Times)

• The MAGA-fication of North Idaho College: G.O.P. activists set out to root out the "deep state" at home. An Idaho community college may never be the same. (New York Times)
Be sure to check out our Masters in Business interview this weekend with Rich Bernstein of Richard Bernstein Advisors (RBA), which was founded in 2009 and is running $14.6B in assets. Previously, he was Chief Investment Strategist at Merrill Lynch, where he had worked for 21 years. Bernstein was named to the Institutional Investor's "All-America Research Team" 18 times and has been inducted into the Institutional Investor "Hall of Fame." He is the author of "Navigate the Noise: Investing in the New Age of Media and Hype."
Vehicles burning gas and diesel are unlikely to ever get back to the level reached in 2017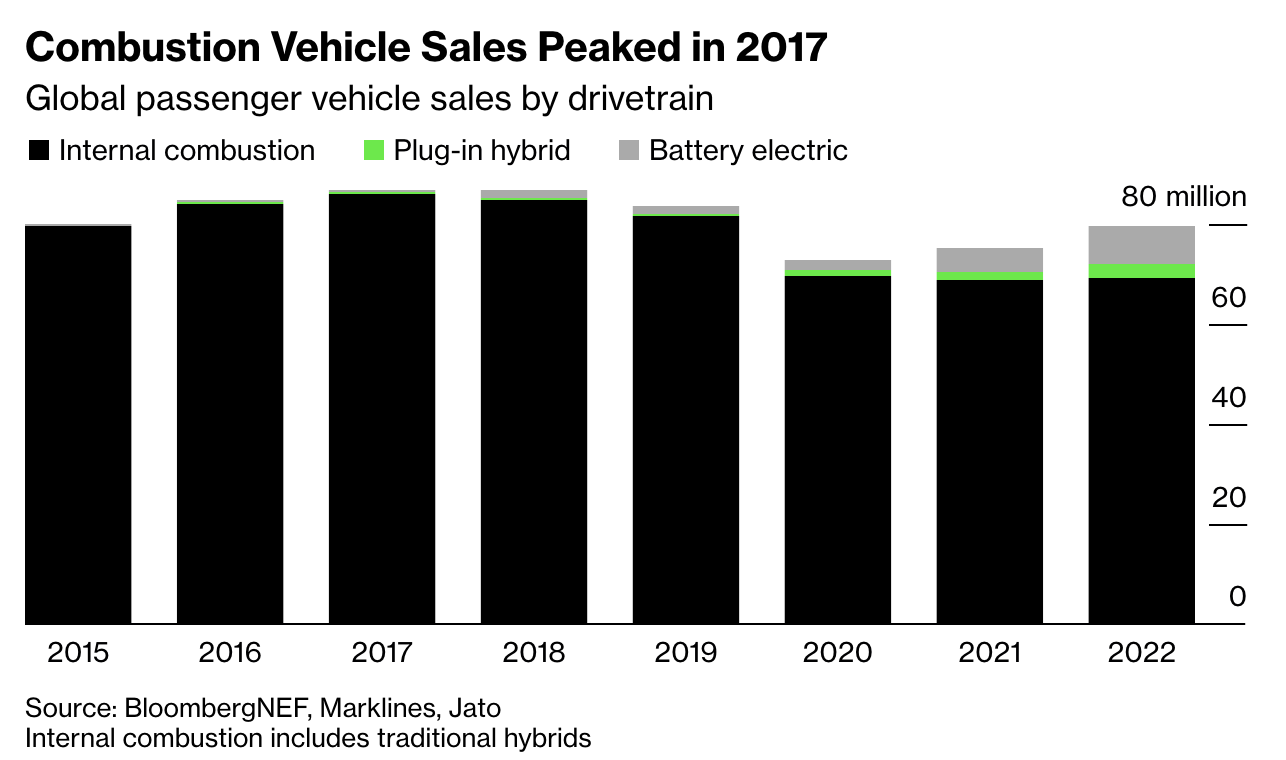 Source: Bloomberg
Sign up for our reads-only mailing list here.
~~~
To learn how these reads are assembled each day, please see this.