My gone to Europe / last reads for 10 days / see you later! morning reads:
• The Stock Market Will Pick the Winners For You: Index funds ride the winners. And while they don't completely discard the losers right away, the stocks that are coming up pick up the slack for the eventual underperformers. (A Wealth of Common Sense) see also Why Should I Hold Stocks? And yet here we are, halfway through the year with the S&P 500 up 10%. The Nasdaq-100 is up 31%, one of the best first half of a year ever. (Irrelevant Investor)

• Will Franklin Templeton's Deal With Putnam Change Their Fortunes? The legacy U.S. fund businesses at Franklin Templeton and Putnam Investments have struggled for most of the last decade. (Institutional Investor)

• It's Not Just AI. 5 Trends That Will Change How You Invest. In the future we'll be thirsty, and artificial intelligence will do our jobs, but we'll all be svelte. (Barron's)

• The world is finally spending more on solar than oil production: The International Energy Agency just released its annual investment report. Here's where the money is going. (MIT Technology Review)

• Five globally successful Chinese companies you've never heard of: TikTok and Shein are household names, but ShareIt and Yalla aren't far behind. (Rest Of World)

• Real estate is China's economic Achilles heel: It's the country's biggest engine of growth an employment, financial asset, and source of government revenue (Noahpinion)

• A $1.5 Trillion Backstop for Homebuyers Props Up Banks Instead: The Federal Home Loan Bank system provides billions to banks curtailing mortgage lending, and millions to its executives. (Businessweek)

• Your Dog Is a Secret Weapon in the Fight Against Cancer: Every year, thousands of pets develop tumors very similar to those found in people. Find drugs that work for canines, and human treatments should follow. (Wired)

• Chris Christie is not in it to win it. His task is more important. If Christie can raise enough money to stay on the air with ads and on the debate stage (with or without Trump), he will be well-equipped to make three arguments that might sway some GOP voters — and certainly be persuasive in the general election. (Washington Post)

• Wine-tasting: it's junk science. Experiments have shown that people can't tell plonk from grand cru. Now one US winemaker claims that even experts can't judge wine accurately. What's the science behind the taste? (The Guardian)
Be sure to check out our Masters in Business next week with Ramit Sethi writes about money, business, and psychology. He is the author of NYT bestseller I Will Teach You to Be Rich and the host of the popular Netflix series "How to Get Rich."
The Cost of Buying vs Renting In America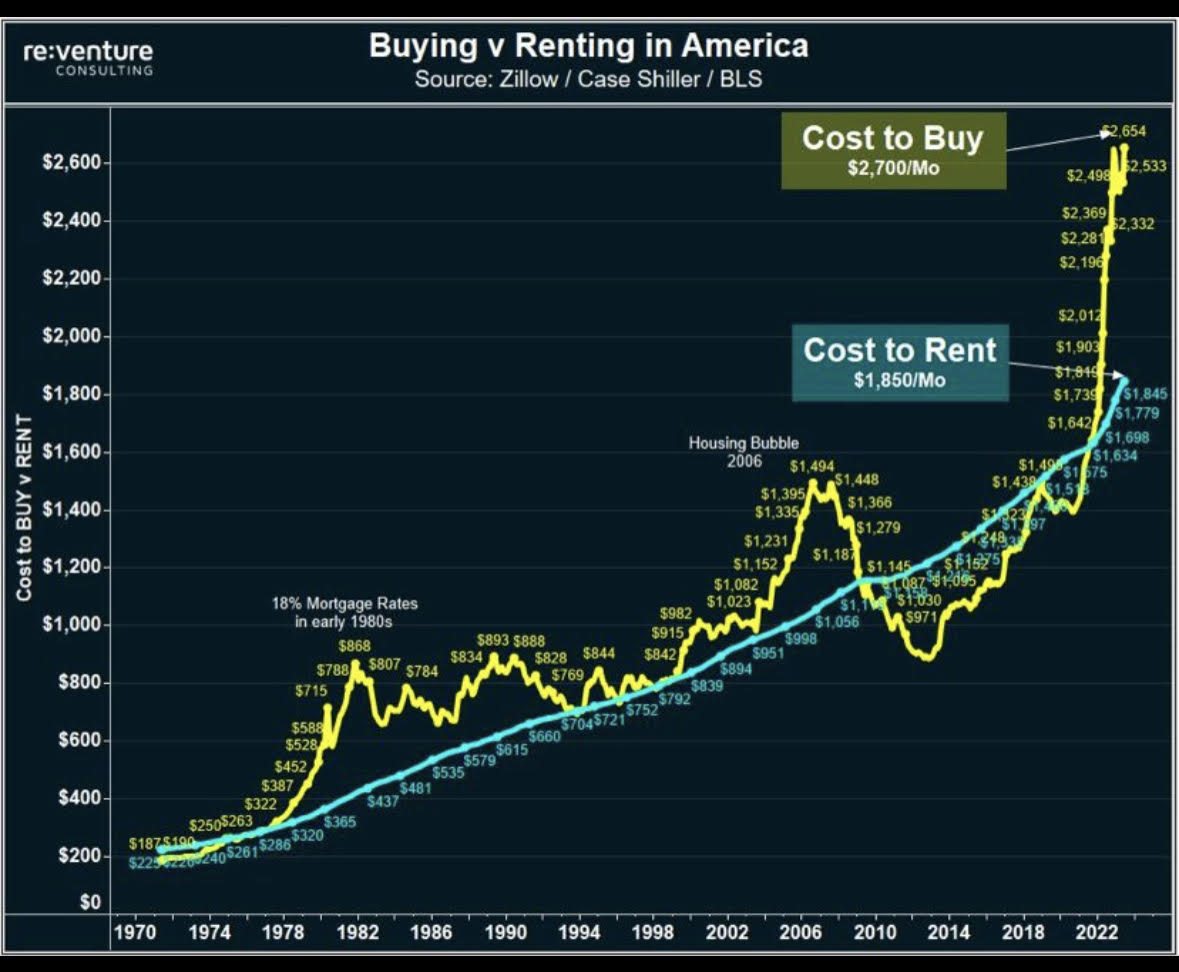 Source: Reddit
Sign up for our reads-only mailing list here.