We've been discussing the 100 year charts that look at the secular history of Bull and Bear markets, including Adjusting Stock Prices for Inflation. This has been a favorite of mine for some time, and I highlighted it in the technical segment (part II) of the Cult of the Bear.
Ed Easterling was kind enough to let us run his chart, and I find it to be the very best of these longterm secular views: He overlays the Bull and Bear periods with trailing P/E — this fits in very nicely with our contracting P/E thesis.
>
Dow Chart with P/E, 105 Years
click for larger chart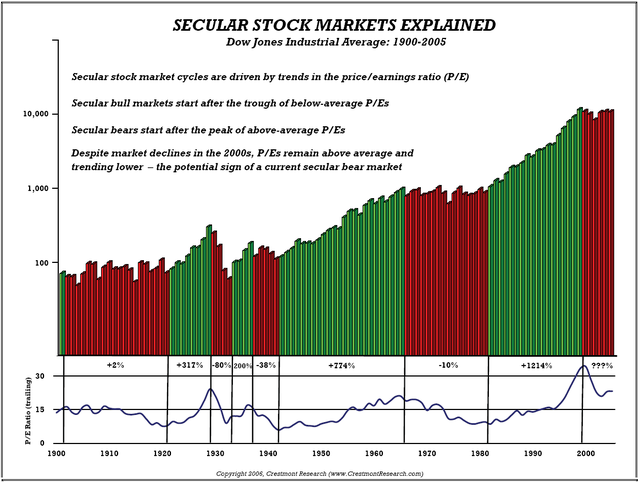 Source: Crestmont Research
>
Incidentally, in terms of what readers purchased via links at this site, Ed's book, Understanding Secular Stock Market Cycles, is your most popular buy, just edging out Barton Bigg's Hedgehogging this quarter.
>
Source:
Secular
Stock Cycles Explained (pdf)
Ed Easterling
Crestmont Research, 2006
http://www.crestmontresearch.com/pdfs/Stock Secular Explained.pdf