St. Louis Fed, April 12, 2016:
Consumers across the country are borrowing more to finance car purchases and pursue higher education, according to the latest issue of In the Balance.
This issue launched the Quarterly Debt Monitor, a new offering by the St. Louis Fed's Center for Household Financial Stability. This new offering will track and analyze developments in select types of consumer debt—such as mortgages, credit cards and student debt—and delinquency measures.
Chief Economist Don Schlagenhauf and Senior Analyst Lowell Ricketts, both with the center, found that average auto and student loan debt balances have risen significantly in the past few years for both the nation as a whole and the Eighth Federal Reserve District.1 The authors noted that the two categories combine for around 90 percent of debt growth since the fourth quarter of 2012. The figures below show the growth patterns for both categories.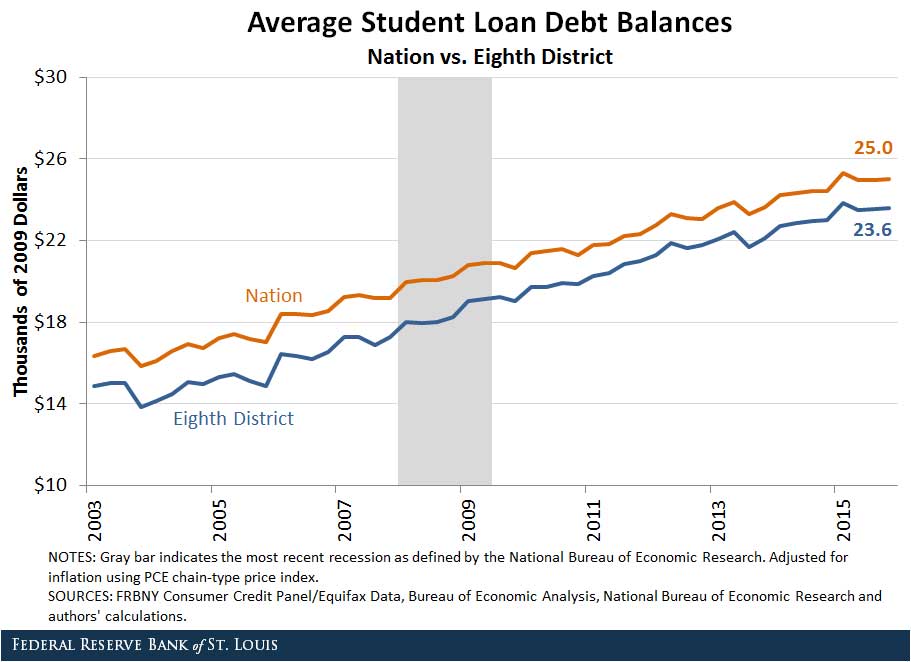 Schlagenhauf and Ricketts also examined what age ranges are fueling the growth in each type of debt. As seen in the figures below, most new student loan debt is concentrated in younger age groups, while most new auto debt is concentrated in older age groups.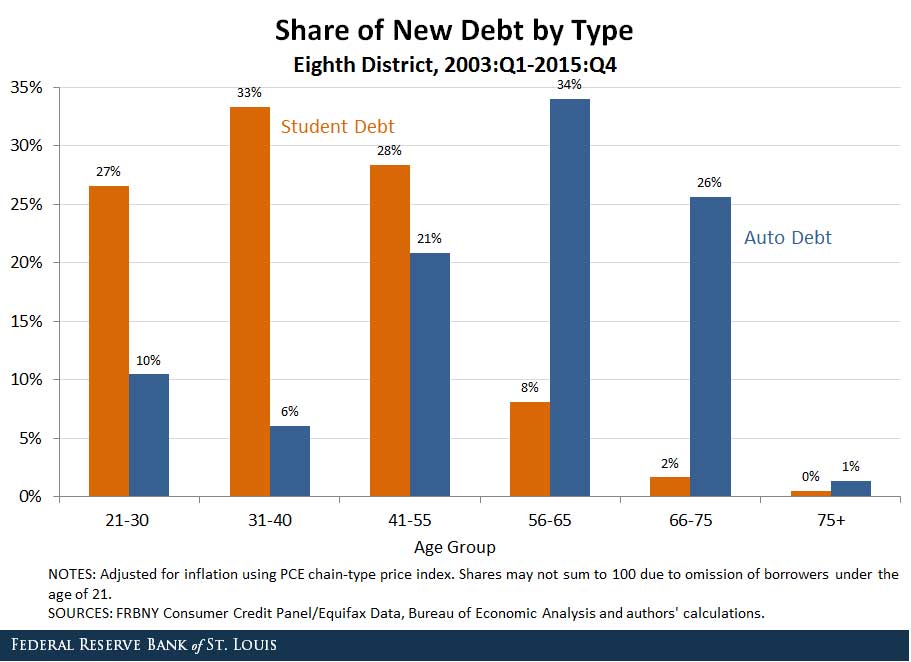 The authors noted that some have attributed part of the slow recovery to recent graduates paying down student debt instead of buying houses and other goods. They wrote: "Coupled with consistently rising average balances, this heavy concentration of new debt among the young supports the theory that these borrowers will experience headwinds in the form of a longer deleveraging period before other spending or saving decisions may be financially sound."
Notes and References
1 The Eighth District includes all of Arkansas and parts of Illinois, Indiana, Kentucky, Mississippi, Missouri and Tennessee.
Additional Resources