It was a big day for the firm yesterday: Last night was the Inside ETF awards dinner, an annual event that recognizes innovation in the world of investing. We are honored and humbled to have been named Best ETF Advisor by ETF.com:
Best ETF Advisor: Ritholtz Wealth Management

Awarded to an individual financial advisor or advisor team that is using ETFs to deliver high-quality portfolios to clients in an innovative way.

Ritholtz is a classic wealth manager, in the sense that it focuses not on making market calls, but crafting long-term plans to meet individual financial goals, with a healthy dose of risk management. The firm's focus on evidence-based investing—not performance chasing—and its adoption of environmental, social and governance strategies for those clients who want it, put Ritholtz Wealth Management out on the front edge of ETF-centric financial advisors.

Finalists included:

Chudom Hayes Wealth Management
Edelman Financial Services
Stocker Woods Financial
Veteran Financial Freedom Initiative
While Kris and I were at the ETF.com dinner, Josh and Mike were kicking it at the Stocktoberfest event. Michael Batnick, our head of research, won the Financial Twitter Account of the Year Award! His Tweets are always insightful, educational, AND funny:
Thank you @StockTwits and Russia for this honor! pic.twitter.com/khS5bo653N

— Irrelevant Investor (@michaelbatnick) March 30, 2017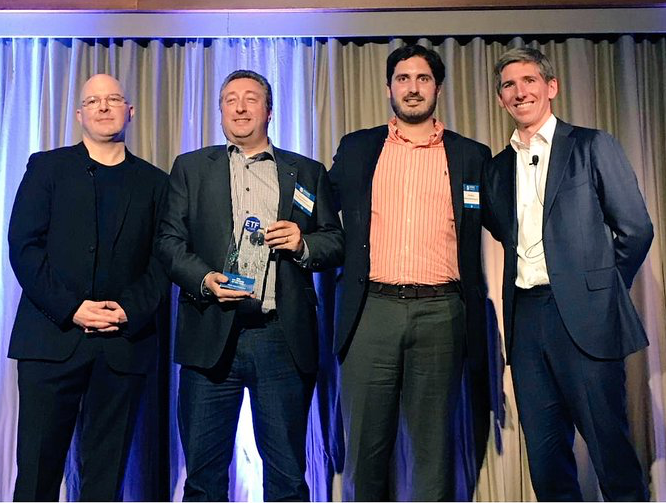 Update: Josh discusses Acceleration here:
Some weeks it feels as though a year has just occurred. There's some serious acceleration going on at the shop, and it's really exciting to be a part of.

At the outset of the week, Kris, Ben and Barry were out in Austin and then Houston visiting with Ritholtz Wealth Management clients and seeing some potential new clients all over town.

The fact that we can go to cities all over America and find people who are appreciative of our message and investment ethos is really cool. I never could have imagined it when I first started blogging back in the day.