We haven't seen numbers like this since the financial crisis — although to be fair, these numbers bring us in the USA back to where we were on Monday, prior to the rally this past week; Europe seems to be getting punished to a much greater degree.
A few interesting charts worth sharing:
British Vote: London & Scotland "Stay," Most of England "Leave"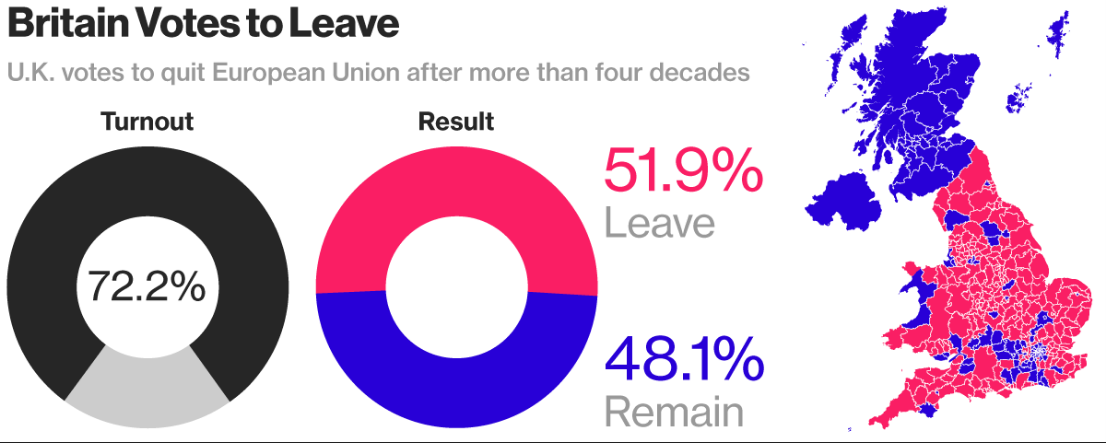 Source: Bloomberg
What Issues Mattered Most to Voters
Or the votes presented as a table: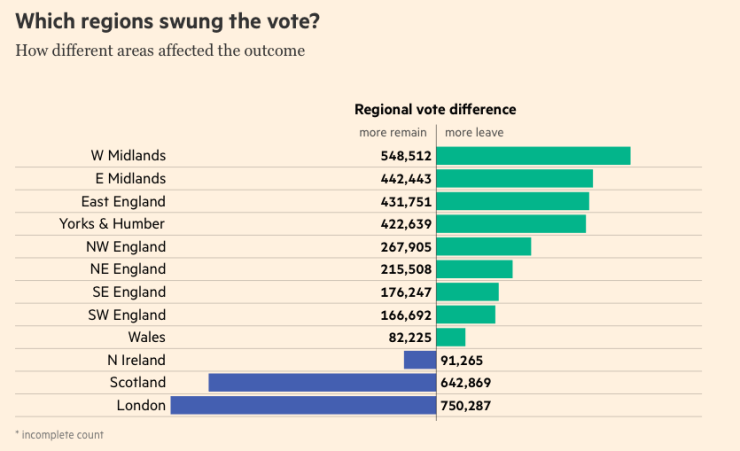 Source: Fusion
Markets Around the World Fall between 4-15%
Click for up dated futures
Europe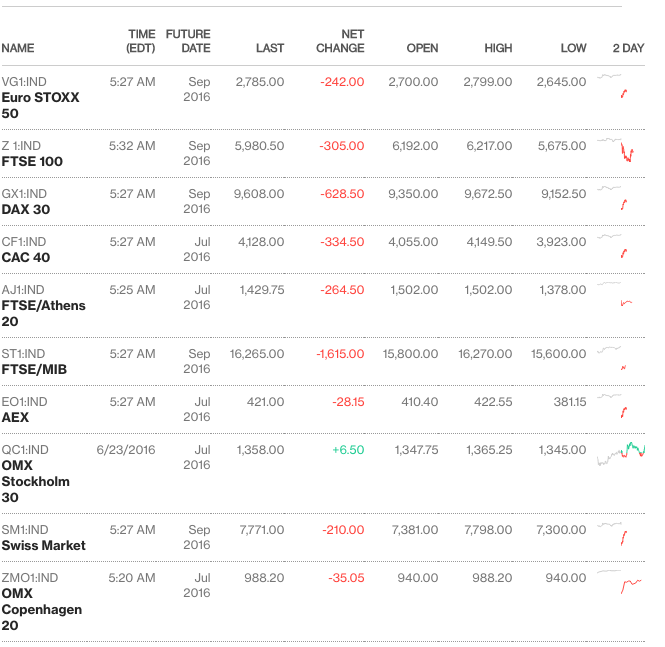 US Futures Indicate 3-4% Lower Opening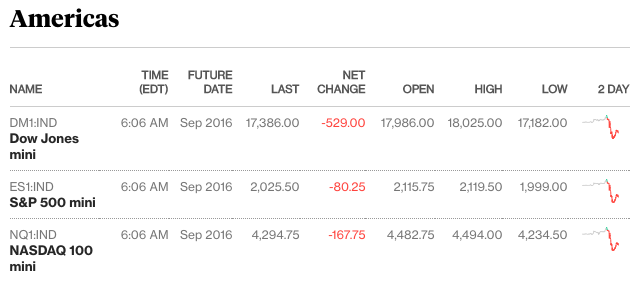 Source: Bloomberg
Global Markets in Table format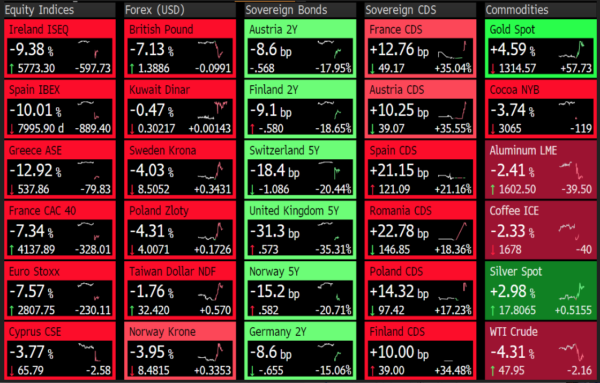 Source: Bloomberg
Despite the Selloff, Brexit' Is No Lehman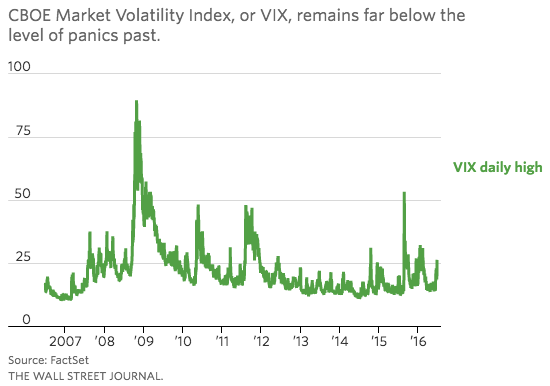 Source: WSJ
But Currency Markets Have a 10-Sigma Movements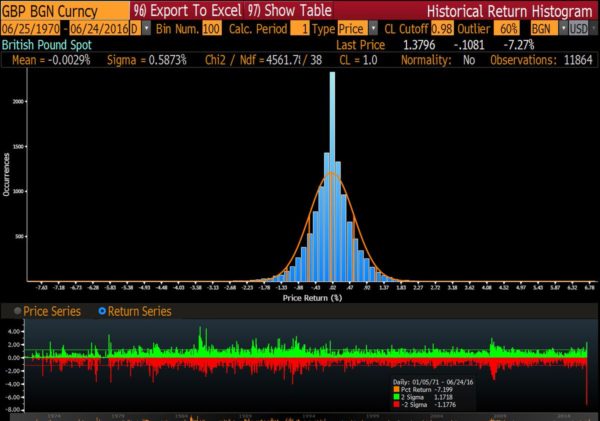 Source: Bloomberg
Polls forecast close race, but got it wrong


Source: Bloomberg
Safe Havens Attracting Risk Off Trade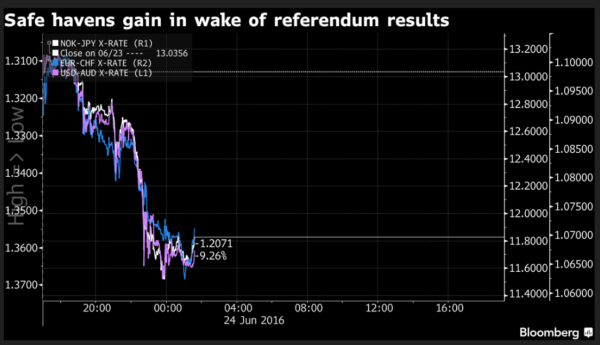 Source: Bloomberg
British Pound back to levels not seen since 1985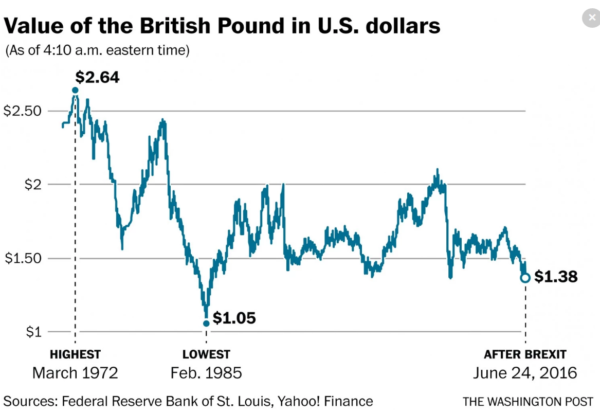 Source: Washington Post
The "Leave" Camp Trusts No One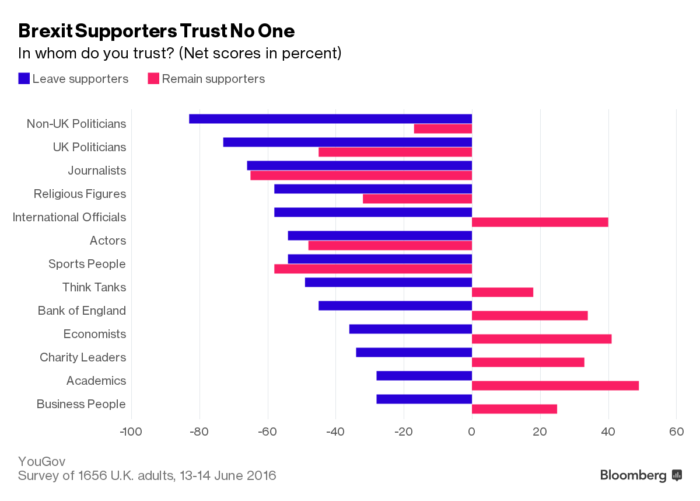 Source: Bloomberg
UK has benefited from the EU Membership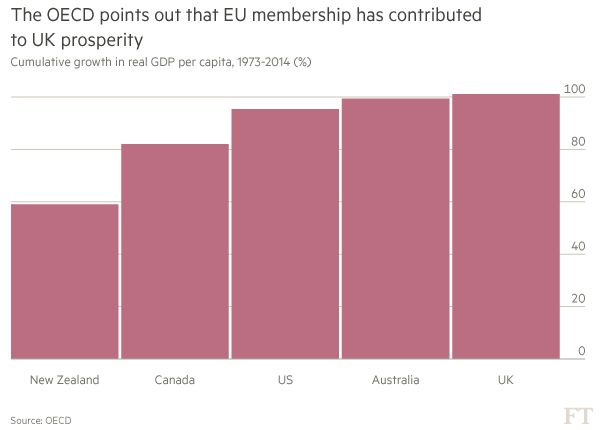 Source: FT
Younger Generation feels Old Folks Stuck it to them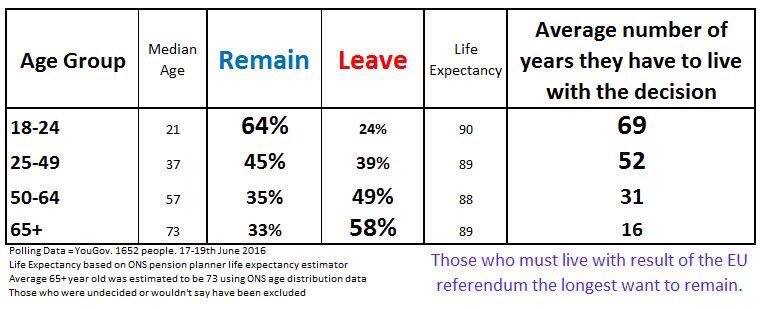 Source: Fastcompany
Its not just the Brits: Most of Europe does not like the EU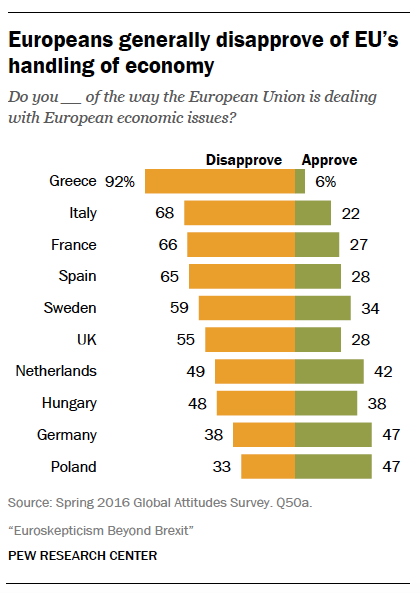 Source: Slate
Brexit's First 100 Days: Chaos vs Damage Limitation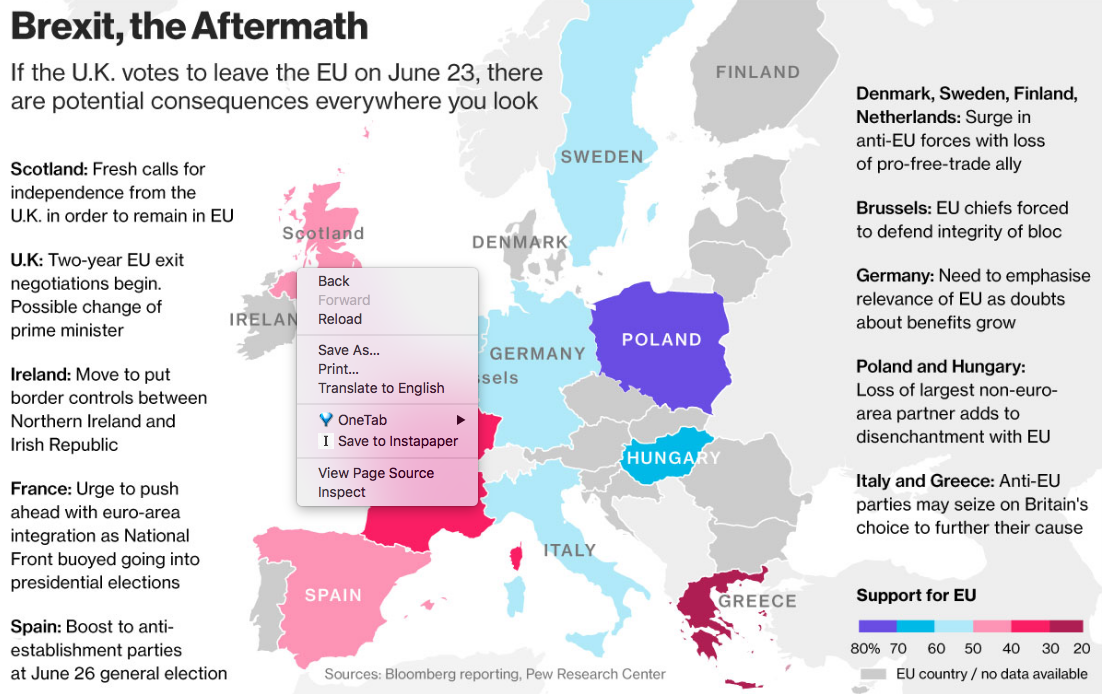 Source: Bloomberg
Foreign Ownership of UK government bonds = 26%; Germany and France > 50%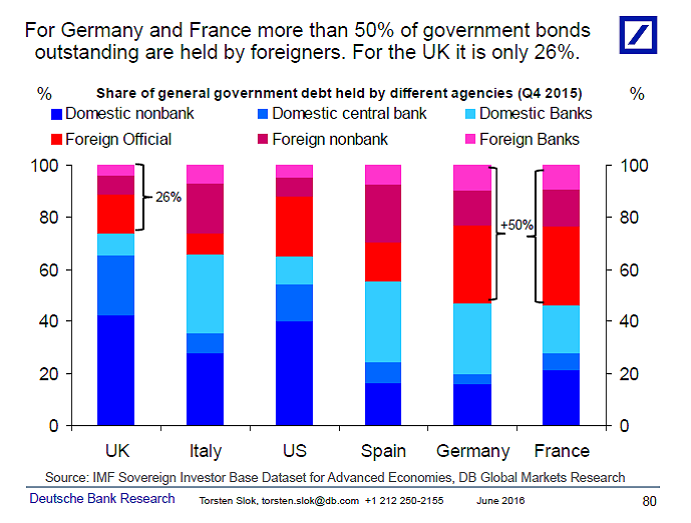 Source: Deutsche Bank
Does Scotland now try to leave the UK and rejoin the EU?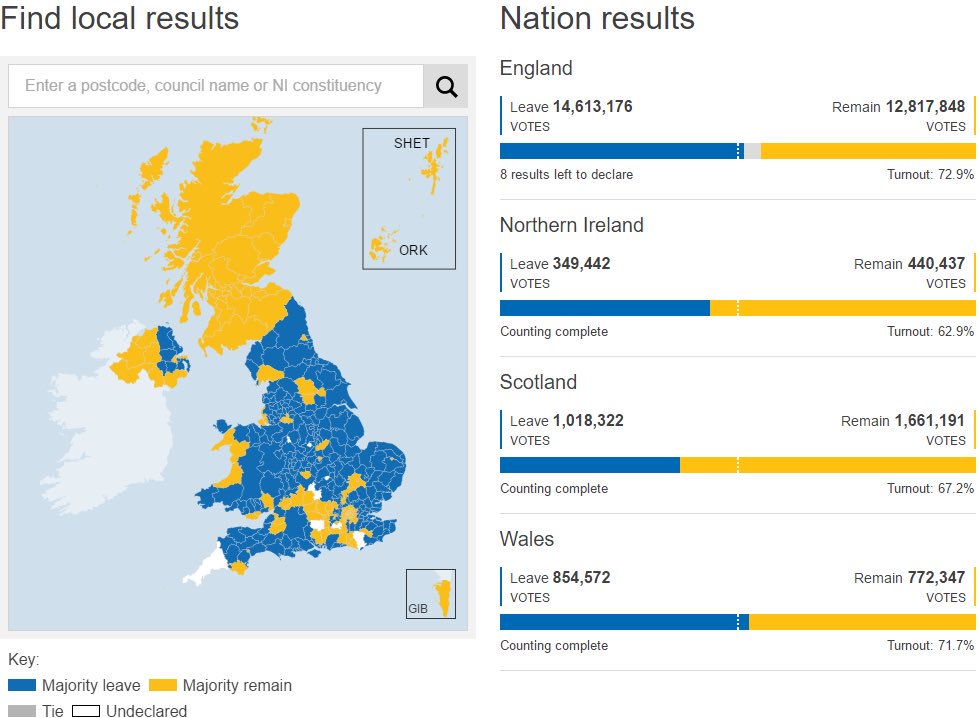 .
Source: BBC via Liz Ann Sonders
How Bad is this for Business in UK?


Source: FT
Although there are still many ties between UK and EU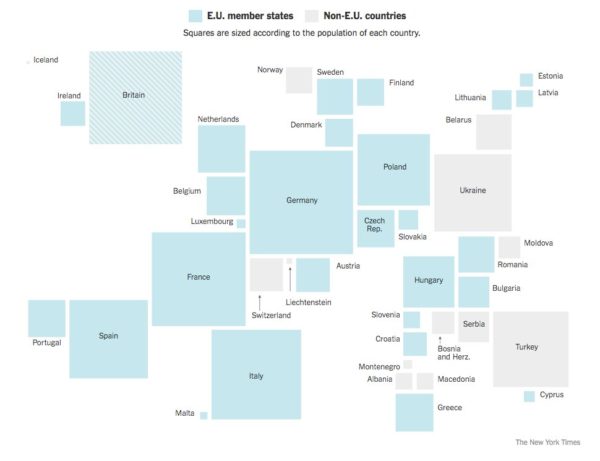 Source: NYT
But the Slump in Pound = possible growth of tourist spending in Britain


Some other links:
A Bloomberg News primer on how Brexit's first 100 days promise chaos, fear and damage limitation.
The Guardian outlines the aftermath of Brexit and considers theimplications for everyday life in the U.K.
London School of Economics papers estimate the economic consequences of Brexit and consider British options outside the EU.
The U.K. Treasury considers the economic impact of Brexit.
The Open Europe think tank offers recommendations for the U.K. post-Brexit.
The Guardian: Is the Referendum Legally Binding?
Brexit indicators and poll tracking from Bloomberg, plus a story truth-squadding the arguments.