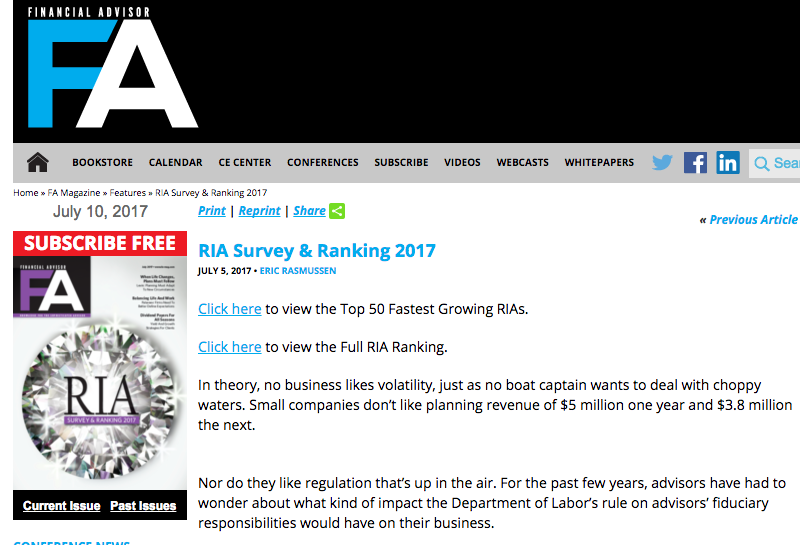 Very exciting news: Our firm was named the fourth fastest growing Registered Investment Advisory firm in the country, based upon changes in assets under management from the prior year.
It is a humbling experience to be part of something much bigger than yourself. Growing a firm is a team effort, and we have what I think is one of the best teams in the business (Josh has the full details here). We spent a full year before launching RWM, checking out what other firms do right and wrong, thinking carefully about the best way to not only manage assets for clients, but how to communicate with them, help them plan for the future, and solve important related finance issues they might encounter.
What we are doing is innovative and different from the old school way of managing a firm. I believe (or at least hope) that the growth reflects some of our own planning ands new thinking about this industry.
If you are an investor looking for help with your financial plans, your income needs, and your portfolio, please give us a call. Advisors looking to be part of a new way to provide for their clients as a fiduciary, please reach out to us.  Send email to Info -at- RitholtzWealth -dot- com, with the subject "#4 ." Or call 212-455-9122 and ask for Erika or Kris.
Thanks to everyone for your support and kind words. We promise to keep doing what we do — not only to provide the best customer experience for our clients, but to continue working to make this industry more transparent and responsive to the needs of investors.